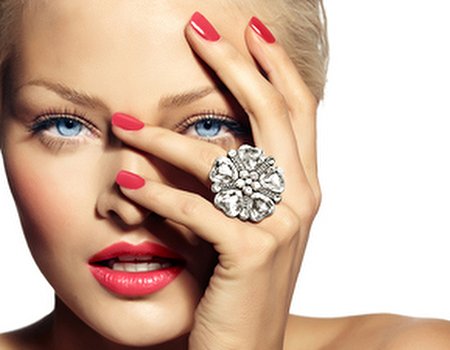 Have you ever worried about how long you spend preparing for a night out? Washing your hair, shaving your legs and painstakingly applying false eye lashes. Well don't worry, we all do it. When a big event is coming up it's natural to want to look your best, and if experience has taught us anything it's that the key to a flawless look is in the finishing touches.
No matter how long you've spent getting ready or how flawless your makeup, a chipped nail can ruin a party look faster than you can say 'manicure'. Avoid embarrassment this party season by ensuring you have ten perfectly polished nails. To make things easier for you, we've put together a list of some of the hottest manicure looks for winter. Flawless finishing touches are at your fingertips, just take a look at our five favourites.
Ring finger
The ring finger manicure involves painting eight of your fingers in one shade and your two ring fingers in a contrasting shade. The craze is said to have been started by recently engaged women hoping to draw attention to their sparkly new rings, but gained popularity when single ladies realised it was the perfect manicure to complement an expertly held cocktail glass. Whatever the reason behind it, we love the look and we love the simplicity. Just pick out a couple of polishes, grab a cocktail and go.
Glitter
We like to think of ourselves as beauty trend-setters here at Wahanda which is why we're very proud to reveal this trend is one we've been rocking since we were children. Glitter, or sequin (think big bits of glitter) manicures are all the rage right now and as we get closer to festive season we predict twinkly lights and tinsel will only make it more popular. We're still loving Nails Inc's Pinkie Pink which was launched in October as part of Breast Cancer Awareness Month. Get yours for party season and £1 from each sale goes to Breast Cancer Campaign.
Caviar
For the truly sophisticated party-goers among you, there's only one thing to dress nails in this season: caviar. Fear not, caviar nails have nothing to do with fish eggs. It's just the rather clever name nail experts Ciaté came up with to describe their revolutionary manicure which involves covering nails in tiny beads. Caviar sets are available in a range of styles but due to popular demand retailers are having to use a waiting list system. So if you've got any seriously chic soirees in your calendar it might be time to get in line. No pushing.
Nail Art
This modern world never fails to amaze us. First 3D movies, then 3D tvs and now 3D nail art. If you're looking for something truly eye catching this season go for an embellished nail. You might have toyed with nail art in the past but embellished nails take things a step further. Think Metal bows, giant gems and plastic charms. Sound like your kind of manicure? Then check out www.nazilaloveglamour.com. If you prefer your nail art a little more low-key, however, we've found just the thing. Front Cover's Dark Arts kit has everything you need to create decadent party nail looks, including gorgeous nail colours, stickers, jewels, glitter, glue and best of all... instructions. It's time to get creative.
Metallic
If you don't like your nails to upstage your outfit why not stick to something classic. Subtle yet festive, the metallic nail has been popular since our summer-time, Olympic-inspired fascination with gold silver and bronze. Give metallic nails a seasonal update with a wintry shade of green or purple. We love Topshop's Nails in Queen of Green. Or for a different take on the metallic trend try a magnetic polish. Barry M has a great range of metallic shades and we want them all.