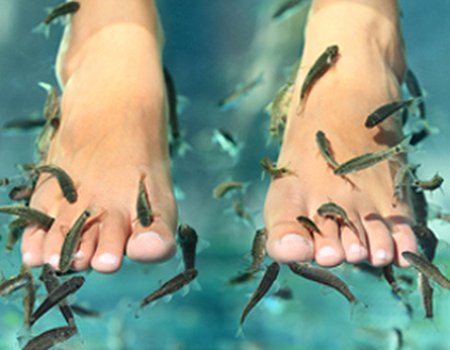 As the weather gets colder, Saturdays are fast becoming what we like to call 'duvet days'. You know, those days when you bring your duvet downstairs, put on a Hugh Grant film and curl up with a cup of tea listening to the rain.
If this weekend is as grey as it's supposed to be it's going to take something extra special to get us to venture outside. Hang on a second. We've got something extra special to do this weekend. In fact we've managed to fine three special things worth getting out of bed for this weekend. Sorry Hugh. Don't believe us? Have a look at our top three weekend ways to pamper with a twist...
Fish pedi
Are you feeling the onset of the winter blues? Quick, put a smile on your face with the tickliest (and in our experience giggliest) beauty treatment around, the fish pedicure. Traditionally a Turkish therapy for skin diseases, the piscatorial pedicure involves immersing your feet in a pool of warm water filled with about 100 tiny toothless carp called garra rufa. These 'doctor fish' then get to work removing any dead, flaking skin from your feet. It's not everyone's idea of relaxation but a fish pedicure is very effective and doesn't hurt at all. Plus, now is the best time of year to have one as winter socks, boots and slippers will keep your feet soft and supple until flip-flop season returns.
Airport spa
Fancy jumping on a plane and jetting off somewhere hot for the winter months? It's a nice idea, but for most of us jobs, family and lack of disposable income get in the way. Fake a winter holiday buzz with a trip to one of MWnails' manicure flight decks. Designed with first class, efficient service in mind, these nail bars look like the interior of an aeroplane and are made using 100% authentic Boeing interiors. Each of the treatments on offer is inspired by a different exotic destination from the simple Shanghai Shape to the decadent Fiji Full Set. Join the File High Club this weekend and book yourself in for a luxurious manicure you won't forget.
Spa bar
In the cocktail world 'with a twist' means 'with a lemon'. In the beauty treatment world it means 'with a cocktail'. It does if you have your treatments at east London's new spa-bar the Barking Bathhouse anyway. The Bathhouse offers visitors the chance to indulge in spa treatments, including massages, manicures and pedicures, a wooden sauna and a cold room while enjoying fresh cocktails and smoothies from the bar. The bar uses only natural produce grown by local allotment gardeners and their own cucumber canopy ceiling. Since it opened this summer the Bathhouse has become a bit of a London hotspot so whether you plan to grab a drink or a manicure this weekend make sure you check it out. We'll see you there.