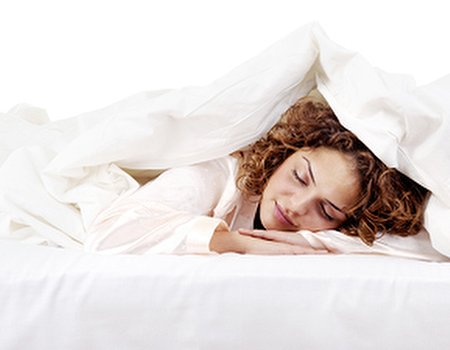 At this time of year, some days all you want to do is stay in bed. We could all probably do with a bit more sleep - and no one can blame you for struggling to get up on dark, cold mornings - but spending extra hours in bed can leave us feeling unproductive and even a bit blue. If only there was a better way to use the time we do have in bed (no, we're not talking about that).
We're talking about easy, at-home beauty treatments that have been specifically designed to work through the night. Not only will these sleeping beauties have you waking up looking refreshed and ravishing, they'll free up time previously devoted to pampering during the day. Here are a few of our favourites:
James Read Sleep Mask Tan
With all the overnight moisturisers that are around these days, sometimes it can be difficult to spot one that does something a little different. Well the new offering from James Read does just that. The James Read Sleep Mask Tan is the first overnight treatment that combines skin beautifying ingredients with a touch of self-tan. Infused with skincare essentials including aloe vera, cucumber, hyaluronic acid and red algae to moisturise and soothe the skin as well as self-tan ingredients, this 'mask' guarantees wearers will wake up with a subtle golden glow in the morning. Now that's what we call beauty sleep.
Resultime Regenerating Collagen Gel
When it comes to anti-ageing products, 'collagen' and 'regenerating' are words you see everywhere. So what sets this one apart? Well, designed to be used as a serum in the morning and evening, Resultime Regenerating Collagen Gel works effectively as an intensive mask to be used at night that continues to work while you sleep. The Regenerating Collagen Gel contains a unique concentration of 15 structural molecules similar to those present in the skin. This combination works to regenerate and preserve the youthfulness of the skin, boost cell and tissue metabolism and reinforce all of the skin's structures by hydrating, smoothing and plumping the skins surface.
Temple Spa Truffle Noir
They say sharing is caring, so in the run up to Valentine's day we suggest you show your loved one how much you care by investing in a pot of Truffle Noir from Temple Spa for the two of you share. This luxurious formula containing black summer truffles, champagne extract and silk and gold active has been designed to be used by men and women at different times of day. The thick formula leaves skin with 'a handsome, satin-matte finish' and can help calm razor burn, making it great for men to use during the day. On the other hand, the anti-ageing properties of the cream support the changes in our skin's behaviour after dark and when used overnight, it works with your body's natural nighttime rhythm to encourage skin to replenish itself. Plus at £80 a jar it's a good excuse to go Dutch. Truffle Noir will be available from 14th February - good timing eh?