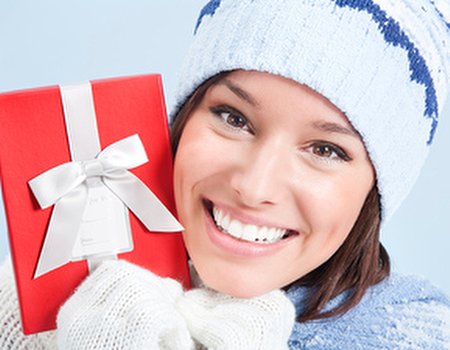 Here on the Wahanda Community page we're dedicated to offering advice, sharing our experiences and generally helping our readers find the best health and beauty treatments for them. Not today though. Today it's all about us and - to keep things festive - what we want for Christmas.
As you might have guessed - health and beauty enthusiasts that we are – most of the stuff on our wish lists has something to do with making ourselves look and feel fabulous. So if you need a little wish list inspiration for yourself or you're struggling to find that perfect gift fora friend or relative, take a look at the list of goodies we hope to find under our trees this year. Please Santa, we've been very good.
Elly, Senior Marketing Manager
I would like (really need) a Thalgo eye massage mask treatment as an antidote to festive excess. It de-puffs and rejuvenates your eye area and is also supposed to help your wrinkles. Product wise I'd like a big bottle of Nude's pro genius face oil please. Thanks Santa!
Marianne, Writer
When I first saw pictures of the Ciate caviar manicure I was desperate to try it out. A Caviar manicure involves covering the nails in tiny pearls and the results look amazing - and very festive. Thanks to a very long waiting list I am still yet to get my hands on a set but I'm really hoping Father Christmas can work his magic and find a Caviar Mini Bar (which contains four mini paint pots and four sets of caviar pearls) to leave in my stocking. I'll even leave out an extra mince pie...
Ana, Supply Support Manager
If I was brave enough (and rich enough) I would love for Santa to leave some Snail Cream in my stocking. The main reason is that - despite the name - by all accounts, Snail Cream is a little skin healing miracle. Who wouldn't dream of stopping time in its tracks, getting rid of that nasty scar, or have some cheeky stretch marks made invisible?
Micaela, Supply Copywriter and Assistant Merchandiser
At the top of my wish list is The Mad Hatters Tea at The Sanderson in Soho, London. Hosted at one of London's finest and most luxurious hotels, The Mad Hatters Tea has been on my wish list for a while. Not only do you get almost two hours of luxury treatments in their top class spa, you are treated to an Alice in Wonderland themed afternoon tea and relaxation in the pod. If Father Christmas could leave a voucher for this in my stocking on the 25th, I'd be a very happy bunny.
Sophie, Hotels Account Manager
I have just moved house and the bath is the perfect size for long, luxurious bathing. I love the Jo Malone Bath Oil collection and Pom Noir is my favourite fragrance as it lasts and smells fantastic. The bath oil leaves your skin feeling moisturised and smooth without leaving it greasy. A bottle of this would be the ultimate gift.
Alison, Site Editor
For someone whose make up and nail polish collection is of epic proportions, I have a relatively small number of eye-shadows. When it comes to trying to complement my winter complexion (and as someone with pretty pale skin anyway), I usually default to the same shade of warm brown rather than experimenting with more vivid colours. This pretty Stila palette - which comes complete with instructions for creating both day and night looks - would allow me to stay in my neutral comfort zone, but whilst branching out into gold and berry shades. A subtle shimmer and shift of hue may seem tame, but baby steps…
Rebecca, Community Manager
Priced at £107 for a 50ml pot, Omorovicza Gold Rescue Cream would be the ultimate gift to open up on Christmas morning - especially after being such a good girl all year. Packed with gold (for its anti-inflammatory uses of course, dahhhling), Omega 6 ceramides, polypeptides and a patented Mineral Cosmetology system, this is the dream cream of day creams. The water-based hydrating cream is full of ingredients that boost collagen production and keep skin looking great, and has been hailed as the Creme De la Mer of day creams. Forget the frankincense and myrrh, I'll just take the pot of gold this Christmas.