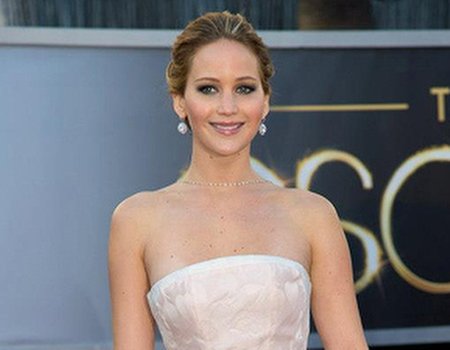 Over the past few weeks, we - along with a few of you we imagine - have devoted a lot of time to studying red carpet beauty. Through our close analysis we've learned a few things: a classic bun is always chic, there is a red lipstick to suit everyone and most importantly, the key to a striking look is in the eyes. No matter how high the hair or bright the lip, a well-dressed eye can steal the show with just a bat of heavily mascara-ed lashes. No one knows this better than those A-list experts, which is why we weren't at all surprised to see so many pretty peepers at Sunday night's Oscars. From Jennifer Lawrence to Reese Witherspoon, here are a few of our favourites:
Charcoal
As if picking up the award for Best Actress wasn't enough, Jennifer Lawrence (pictured) dazzled on the red carpet pairing a pale Dior gown with some very dark eyes. Opting for natural pink lips, Jennifer let her eyes do all the talking with thick black eyeliner, a glittering charcoal shadow and lashings of mascara. We love Bourjois Smoky Eyes Eye Shadow in Gris Dandy, build it up for a winning smoky look of your own.
Champagne
Charlize Theron showed off her newly cropped hair at the Oscars, emphasising the do with bare shoulders and neutral makeup. Again, keeping lips a natural shade of pink she added a subtle sparkle to her look with a shimmery nude eyeshadow and the effect was beyond elegant. Pale pink or nude shades work well on all skin tones and eye colours and wearing one with a touch of shimmer is a great evening look. Try Topshop's Eye Crayon in Marble for a similar look.
Blue
According to London Fashion Week, blue eye shadow is set to be a big trend next season. Already the owner of some of the bluest eyes in show business, Reese Witherspoon tested the trend for herself at Sunday night's awards and we love the result. Reese complimented her bright blue gown with a discreet shade of blue across her eyelids and a soft brown below. Blue can be difficult to pull off – especially with blue eyes - so mixing and matching can be a safer way to wear the shade. Rimmel Glam'Eyes Quad eye shadow in State of Grace gives you four gorgeous shades to experiment with.
Purple
For years beauty experts have maintained that if you have blue eyes you should stick to eyeshadows in shades of brown and purple. While Reese may have thrown out the rule book, fellow blue-eyed girl, Amanda Seyfried stuck with tradition opting for a sultry feline eye in a deep shade of mauve. The effect is dramatic without being overly dark and the shade looks beautiful with Amanda's pale skin and fair hair. Try it for yourself with Mac's Pro Longwear Eye Shadow in Mauveless.
Copper
Kristen Stewart knows that for a glamorous look that's slightly off-beat, nothing beats a bright metallic shade like copper. This reflective shade can be worn to excess creating an eye-catching look (excuse our pun) without making eyes appear smaller like darker shades often do. Wear Illamasaqua's Liquid Metal in Enrapture across the entire eyelid and below the lashes for a look that will suit all eye colours, but is guaranteed to really make greens and blues pop.
Image from The Academy of Motion Picture Arts and Sciences/ The Oscars official Facebook page