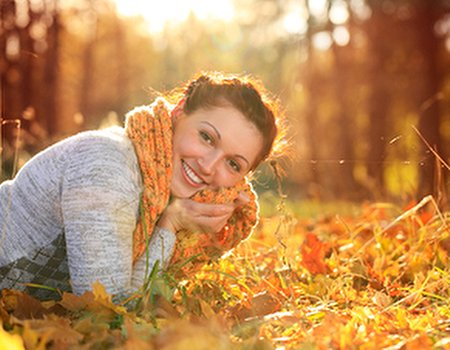 The leaves are turning, the nights are drawing in and Strictly Come Dancing is back on our screens; it's official, autumn is here. But before we get carried away leaf-kicking and apple-bobbing (just us?), it's important to make sure we're fully prepared for the new season. While we all look forward to a new season makeover, getting autumn-ready means much more than finding the perfect new coat and stocking up on tights.
While autumn in the UK is usually very pretty, it can also be rather cold and wet, which - to the unprepared - can mean coughs, colds and an overwhelming desire to stay indoors. Don't miss out on seeing all this beautiful season has to offer. Take a look at our top three new season supplements guaranteed to keep you healthy and gorgeous this autumn – after all, a red nose is so 2011.
Pycnogenol
Just because you can't pronounce something doesn't mean it shouldn't be a part of your everyday life. With its anti-ageing and period-pain busting qualities Pycnogenol is a girl's best friend – especially this time of year when cold winds and central heating can leave skin looking dull and dehydrated. This natural supplement improves skin hydration and elasticity, using Hyaluronic acid to bind water in the skin leaving it smoother, wrinkle-free and ready to face autumn. Better still, Pycnogenol reduces menstrual symptoms like period pains and bloating, making it that much easier to venture out into the brisk autumn air on those few nights a month when your blanket, hot water bottle and emergency tub of ice cream look particularly tempting.
Vitamin D
The good thing about summer being over is that we can stop pretending the sun's just hiding behind a cloud ready to re-appear at any minute and give us those sweltering few months we've all been hoping for. Autumn isn't supposed to be sunny, which is why all those clever scientists created vitamin D supplements. Vitamin D is terribly important for our general wellbeing and particularly our bones and teeth, but according to Paul Banwell, Head of the Melanoma and Skin Cancer Unit, East Grinstead: "Around 50% of the adult population in the UK have sub-optimal levels of vitamin D and about 15% have 'severe' deficiency during the winter."
Following one of the rainiest summers on record we're going to need to be extra careful this autumn. Banwell suggests: "Aim to have 20 to 30 minutes of exposure to the sun 2-3 times a week. Just wrap up on those crisp but sunny winter days and get outdoors! It has also been shown that oral Vitamin D might be beneficial to guard against melanoma, a potentially lethal form of skin cancer. Try Heliocare Ultra D Oral Capsules." We love Heliocare Ultra D Oral Capsules, which boost vitamin D levels while also protecting skin from UV damage – just in case the sun does make a late appearance.
Echinacea
Echinacea might sound like the exotic name given to the latest celebrity offspring, but it's actually a type of flower from the daisy family that has been used throughout history to stimulate the body's immune system and ward off infections. Echinacea is most famously used to treat symptoms of the common cold and dreaded flu, so it's perfect for this time of year. Rather than taking it as an everyday supplement, Echinacea can be very effective taken at the first signs of a cold. Keep a packet of Echinacea cold and flu capsules in your new autumn handbag and stop colds in their tracks. Alternatively, try an Echinacea tea for a warming autumnal boost. Runny noses beware, we're ready for you.