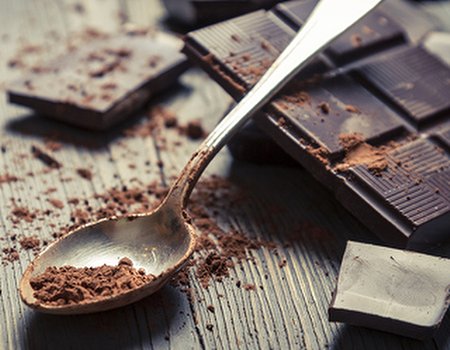 In case it has escaped your attention, this week is Chocolate Week. We know what you're thinking, 'any excuse', but we haven't actually made this one up. Sponsored by fair trade chocolatiers Divine, this 14th – 20th October 2013 marks the ninth annual chocolate week - seven days devoted to celebrating the finest chocolate and chocolate makers around.
Good for the mood, good for the soul and – despite what you might have learned as a teenager – really quite good for the skin, chocolate has become a popular ingredient in some of the UK's finest spas. Here are some of our favourite (almost guilt-free) indulgences…
Bannatyne Chocolate Massage
Rich in anti-oxidants, moisturising cocoa butter and fat-burning, cellulite-busting theobromine, chocolate is just the kind of thing you want rubbed all over your skin as part of a therapeutic massage. No one knows this better than Bannatyne Spa who offer guests the choice of a 30 minute back neck and shoulder massage or 60 minutes of pure (calorie-free) chocolate indulgence.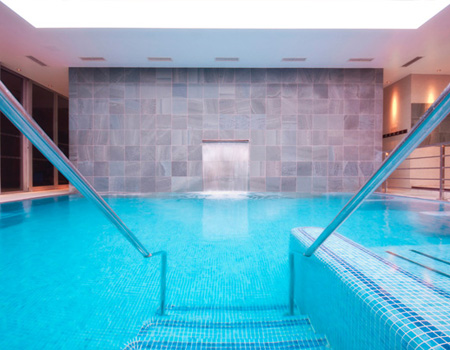 One of the less chocolatey facilities at Champney's Tring
Chocolate Wrapper at Champneys Tring
To anyone who has ever dismissed a wrapper as the least important part of the chocolate eating experience, luxury spa Champney's Tring disagree. Their Chocolate Wrapper treatment is an indulgent experience involving exfoliation, a warm chocolate body wrap and body butter massage. Anyone else getting hungry?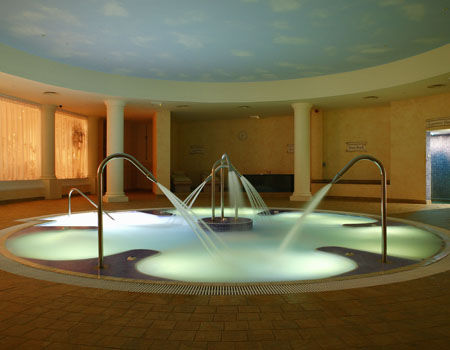 The Whittlebury Jacuzzi is perfect for removing excess traces of orange chocolate
Chocolate Indulgence Day at Whittlebury hall
The Day Spa at Whittlebury Hall, Northamptonshire, might be famous for its unique and rejuvenating heat and ice experiences, but sweet-toothed guests might prefer its Chocolate Indulgence Day. This tempting day involves a Two-course buffet lunch, full use of all facilities (including heat and ice) and a Warming Chocolate and Sweet Orange Peel Infused Salt Sensation treatment. It's not Whittlebury's, it's ours…
Don't let the apples fool you, Vale Spa is all about the chocolate-making
One night Chocolate Indulgence Spa Break at Vale Spa
If a day of chocolate simply isn't enough to satisfy your sweet cravings, the over-night Chocolate Indulgence Break at Cardiff's Vale Spa might be just what you need. Perfect for hen dos and girly gatherings, groups of at least 10 can enjoy a night in Vale's luxury accommodation, one 25 minute treatment, half a day of chocolate making (including dipped chocolates and hand rolled truffles), a tasting session, full Welsh breakfast and full use of the spa facilities. Phew.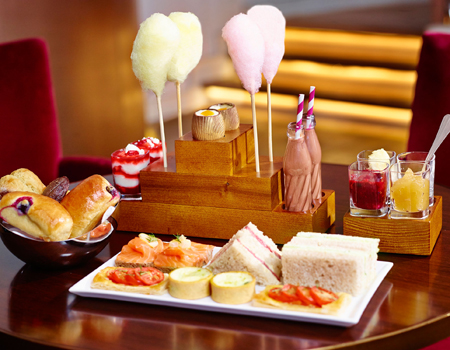 The Charlie and the Chocolate Factory Afternoon Tea at One Aldwych. Now where'd we put that Golden Ticket...
Tips, Toes & Tea Spa Day for Two at One Aldwych
For anyone who believes that Disneyland is the happiest place on earth, you're wrong. It's the Health Club at One Aldwych where, at teatime, they serve up an extravagant Charlie and the Chocolate Factory inspired afternoon tea complete with mini manicures and pedicures and bubbly. The Pièce de résistance? A psychedelic pink Willy Wonka lift and a goose that lays solid golden eggs. Ok we made up the goose, but the rest is true.