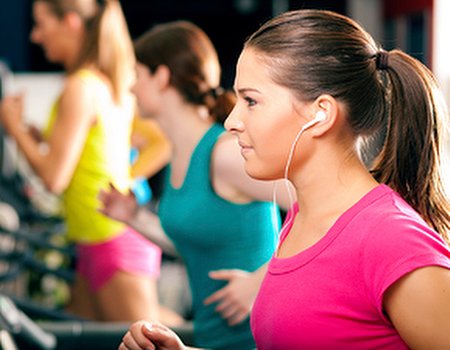 Ever been for a run and found your motivation and energy levels dipping before you've really broken a sweat? That's sort of how we feel this week. We made it through January with most of our promises for a healthy 2013 intact, but now we're faced with the challenge of keeping them up for the rest of the year and it all feels like a bit of an effort.
So, once the pressure's off, your month's free gym membership has expired and everyone's stopped talking about resolutions, how are you supposed to keep them up? When we're on the treadmill and our motivation begins to lag we find that putting on an inspirational and up-tempo song can be just what it takes to help us reach our goal and feel the burn. So, before we stumble at 2013's first hurdle and admit defeat, here at Wahanda we thought we'd put our heads (and iPods) together and come up with a whole playlist of motivational music to keep us going through the rest of the year. Grab your trainers and your headphones. Let's go…
Kate, Account Executive "Rock This Party" by Bob Sinclar. This song has a great beat. It's perfect for doing the steps to.
Rebecca, Community Manager "Call On Me" by Eric Prydz because who doesn't want to be able to hip thrust while wearing lycra and legwarmers? The song was iconic in my teenage years for being a big club tune but it's the video that I see in my head as soon as the song starts. Watch out gyms – this is how I imagine my workouts!
Megan, Senior Account Manager I find anything by Madonna works. Really anything 1980's, it's generally the right pace - not too fast or slow - and makes me HAPPY.
Evaldas, Product Manager "Moves Like Jagger" by Maroon 5 has a great beat and helps me through a workout. The video's great as well – very active and inspiring when it comes on in the gym.
Ana, Supply Support Manager My workout music is salsa or cha cha. I don't really go to the gym, I go dancing socially or take lessons like Latin dancing. It's a really good way to keep in shape, have fun and meet people. This is a very good tune to burn those calories to: "Richie's Jala Jala" by Richie Ray & Bobby Cruz.
Sophie Howse, Hotels Account Manager "Bonkers" by Dizzee Rascal. Whilst running through Hackney I like to listen to this, thinking Dizzee is running with me. It has a great beat and sometimes I do think I am bonkers doing it!
Marianne, Copywriter I find it hard to get motivated on the best of days so like to ease myself in to a workout with something like "Dog Days are Over" by Florence + The Machine. It's gently upbeat and very uplifting which is how I like my workouts.
Darius, Product Manager "Song 2" by Blur is the most energy-spitting song out there. I always imagine Madonna in that BMW short film when listening to this song.
Alison, Site Editor It has to be "Gimme More" by Britney Spears. OK, so it didn't have the iconic dance moves or an impossibly glossy video like much of her back catalogue, but 'Gimme More' is still a Britney earworm and a half. Forget the furore surrounding its release, the grimy, thumping bass provides a perfectly paced push over the line when you're ready to wimp out at the end of a workout. Hit play and get ready to step it up - when this song demands more, you obey because it's Britney, b*tch.