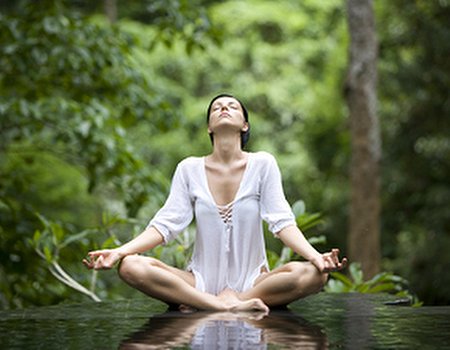 Whether you think of it as a way of life or more of a hobby for 'hippies', most of us are aware (to an extent) of the benefits of meditation and have witnessed it grow in popularity in recent years. Meditation courses and drop-ins have made the peaceful practise open to everyone, while books and - most recently - apps mean that the quest for inner peace is now something we can incorporate into lunch breaks and even journeys on public transport.
With a huge celebrity following and high profile figures like David Lynch and George Lucas campaigning to make meditation a part of the school day, it seems the peaceful practice is set to become a big part of our lives. So what's all the fuss about and how do we get involved?
Why has the world has gone crazy for meditation?
The Western world has been fascinated by meditation since The Beatles embraced it and brought it back with them from a trip to India in the late 1960s. These days, celebrity advocates include Russell Brand and Miranda Kerr, who believe the practice is the best way to clear their minds, and Hugh Jackman (who told Men's Health the meditation had changed his life).
But it's not just A-listers who have found use for meditation. Known to aid concentration, meditation is causing a stir in the academic world too after a US study found that students who practised transcendental meditation for 20 minutes, twice a day were able to improve their academic achievement. As well as bringing calm to busy lives and anxious minds, meditation has been shown to improve behaviour in both difficult teens and long-term prisoners, to help sufferers of depression and addiction and to bring comfort and peace to those battling terminal illness
What is meditation and how will it help me?
Meditation is a way of using your thoughts to bring about a state of calm, enlightenment or spirituality. The origins of the practise may date back to pre-historic times when civilizations would use repetitive chants to communicate with the gods. It has been used throughout religious practise ever since – most notably by Hindus and Buddhists (who practice it as part of their quest for enlightenment and Nirvana).
There are many types of meditation, the most popular focussing on either mindfulness (becoming more aware of experiences, thoughts and feelings) or compassion. Most forms work to promote relaxation, build internal energy (sometimes referred to as 'life force') and to harness the power of the mind to re-shape reality and change the way we think. Today meditation is gaining popularity in the western world as an alternative treatment to psychological conditions like depression, phobias and anxiety as well as physical conditions including high blood pressure, birthing preparation and overcoming the effects of certain cancer treatments on the body and mind.
Where do I start?
Once you've got the right skills, meditation is something that can be practised anytime, anywhere. However for many of us first timers, taking the initial steps towards Nirvana can be daunting. If you like the idea of practising with a seasoned guide, and aren't horrified by the thought of chanting in a room full of strangers, then a class might be your best option. Take a look at our meditation page to find something near you.
Alternatively, if there's only room for one on your journey towards inner peace, here are some of the top meditation apps currently available:
Headspace – This free app offers a ten-day course of ten-minute meditations to get you started. You can stream each audio track or download them to your phone, allowing you to get some 'headspace' wherever you are.
Omvana - a library of different spoken meditations (including those designed to aid weight loss and a guide to finding your inner smile) that can be mixed with a selection of relaxing tracks to find something that works for you.
Calm by calm.com – offers you two, ten or twenty minute meditations. Choose between a selection of peaceful scenes and soundtracks, and after a quick tutorial you can zone out whenever you want.
All together now, 'Ommmmmm….'