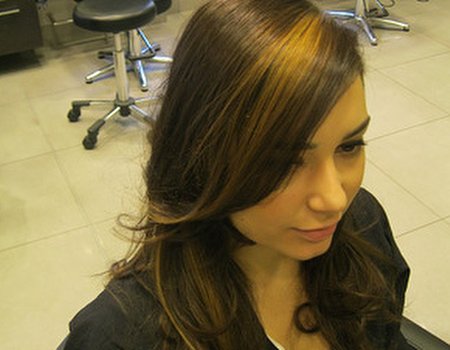 We've loved London Fashion Week here at Wahanda. The clothes, the colours, the makeup and, most importantly, the hair. We're always on the look-out for new styles to try out on our barnets, so with catwalks across the capital showcasing more hair-styles than Madonna in her hey-day, we haven't been disappointed this season.
With messy up-dos at Mulberry, back-combing at Louise Gray, a bit of 1980s crimping at Moschino and a whole rainbow of colours at Vivienne Westwood, it looks like we're going to be spoiled for choice next season. That's great news - but the only trouble is once you commit to one style it's difficult to change it up on a whim, right? Wrong. Thanks to the amazing new colour service from Jo Hansford you can now transform your 'do at the drop of a hat - or swap of a parting, to be precise.
Night and Day is a new colour service that works by cleverly separating hair and colouring only sections that are usually hidden. 'Why hide the dye?' we hear you cry - well, we like speaking in rhyme sometimes. This clever technique means that when you style your hair with its usual parting, your colour looks unchanged. But swap over your parting and voila! The hidden colour is exposed and (if parted carefully) creates the illusion of a full head of brand new hues. Magic!
Speaking of colour, the Night and Day range comes in an array of shades and they're all gorgeous. As is always the case, certain shades work better with certain natural colours. Luckily, the good people at Jo Hansford have already teamed up the perfect Night and Day combinations meaning we can avoid any potential dye disasters – we've been there before, and it's not something we want to do again.
Choose from bright pink on blonde (the Wahanda favourite), caramel over chocolate (sounds delicious) or platinum over medium blonde for a real bombshell look. If you're convinced that platinum will work just as well over your raven locks, consultations to find your perfect colour are part of the Night and Day service so customising under the eyes of the experts is always an option.
The Night and Day colour service is available now for £100, and is a great new season update for colour-chameleons who like having the odd Katy Perry day without the Katy Perry budget.