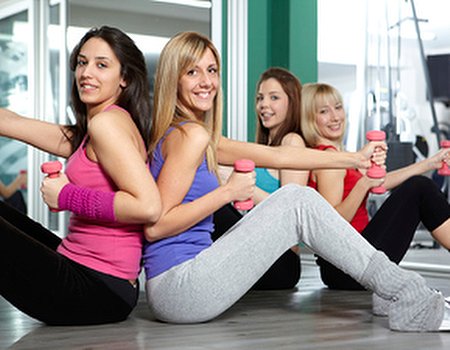 There's snow on the ground, a chill in the air and the weather in the UK is set to get even colder over the next few days. Sounds like the perfect opportunity to bundle up warm, get some hearty soup for lunch and hurry home to slip into our cosiest pyjamas. But what about our New Year's resolution to walk to work and go running in the evening?
If you're just getting into the swing of a New Year fitness plan - perhaps you're starting to see some well-deserved results - you probably won't want to give up your new routine in week three. Unfortunately we can't do anything to change the weather - and we have tried. What we can do, however, is help you continue the good work with a few suggestions for how you can move your new found routine indoors. Take a look at our top three indoor bootcamps to help keep up the good work even when it's snowing.
Keep Fit Indoor Bootcamp, London
If you're looking for a military-style bootcamp that will push you to your limits and have you seeing results in no time, it has to be Keep Fit Indoor Bootcamp on Great Portland Street. Founded by Will Tuffin, one of London's top personal trainers who spent a number of years in the army, Keep Fit Indoor Bootcamp offers a range of keep fit classes, personal trainer services and fitness holidays. Will's professional expertise means that he only works with the best trainers, promising his clients a five star experience, and tough workout that to really whip you into shape. If it's a six pack you're after and you don't mind a little tough love this is the indoor bootcamp for you.
Fit Body Bootcamp, Glasgow
If you've been disappointed by the failures of previous resolutions to 'get fit', Fit Body Bootcamp in Glasgow promises it can make this year different. Calling itself 'the fastest fat burning body toning indoor boot camp ever', Fit Body Bootcamp can help you lose up to five pounds and two inches in your first week of camp – burning roughly 810 calories per workout. Although this bootcamp comes with a warning that it's not for the faint-hearted, it is recommended for anyone who's given up on their skinny jeans, is plagued by wobbly bits that just won't shift, often feels sluggish and lacking in confidence and struggles to fit exercise into their busy schedule. That's all of us, right?
Bootcamp Pilates, Richmond-Upon-Thames
If an army-style fitness regime isn't your thing and, though you'd like to lose a few pounds, you'd rather not end your workout in tears, Bootcamp Pilates might be just the thing. Bootcamp Pilates involves working with a machine called The Reformer, a system of springs, straps and pulleys that work together to provide an effective, no-impact stretching and toning workout. The workout is kind to your bones and joints (no military shouting or name calling here), and helps lengthen and strengthen your muscles without building up bulk. Hugely popular among celebrities, this form of pilates is a peaceful way to lose weight and gain a more aligned and more toned body in a matter of weeks.