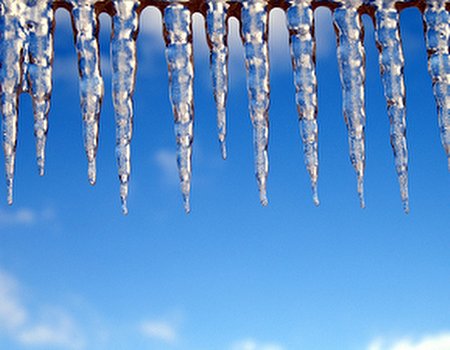 Every year when it reaches November, many of us in the UK find it difficult to cope with the weather. It seems in those vaguely sunny months since April (March if we're lucky) we forget all about winter and when we find ourselves back in the cold we've forgotten what to do. We ask ourselves: "When do we usually put the heating on?'', "At what point are ballet pumps considered inappropriate?" and above all, "How do we cope with this each year?" Well the answer is simple. We embrace it.
That's right, we're getting ever closer to winter and the time has come to embrace the cold. We're thinking brisk walks in winter coats, ice skating in hats and gloves and some very cool beauty treatments. Brrrr-ace yourselves everyone it's time to step outside and face the cold with our top three icy treatments.
Cryotherapy
Just reading about this one makes us shiver, but it's incredibly popular with athletes. Sort of like a giant bag of frozen peas, Cryotherapy works by subjecting the body to a temperature of minus 132 degrees for a short period of time to aid injury recovery, increase blood circulation and invigorate the mind and body.
After a brief medical examination you will be asked to change into a swimsuit-like outfit and led into an ice chamber with a temperature of around minus 60. Once your body has acclimatised (after about 30 seconds) it's time to move on to a second chamber where the temperature drops to about minus 132. Once inside you'll stay there, moving around as much as you can, for approximately three minutes. Finally, the session ends with a warm up activity which, depending on your spa's facilities, could be a spell on a cross trainer, a swim or even massage. As you begin to warm up you'll experience an uplifting, exhilarating sensation thanks to your improved circulation delivering more nutrients and oxygen to the organs. Sounds great, can we just have the massage though?
Cryolipolysis
At a first glance this word looks a little unfamiliar and scary, but look a bit closer and you should see a word you recognise. Lipo. Ok, for most of us lipo is still a bit scary, but Cryolipolysis is actually a non-invasive alternative to liposuction. The treatment works by placing low temperature plates (attached to a cooling machine) directly onto the skin to get rid of fat cells below the surface. By lowering its temperature, the structure of a fat cell is damaged, causing the cell to wither and die.
After the session, your body works to remove the dead cells, causing them to shrink and break down before being absorbed completely over a period of two to four months. Best of all the temperature at which a fat cell is damaged is not low enough to harm skin cells or tissue, meaning that unlike other fat removal treatments it can be carried out whilst preserving the surrounding skin. Hurrah.
Hydrotherapy
Have you ever got home after a long day at work and thought to yourself: "What I need is a nice warm bath." Us too. Most nights actually. Ever got home and thought, "What I need is a nice warm bath followed by an ice cold one." No? You must not have heard about the soothing benefits of Hydrotherapy. Hydrotherapy can refer to a range of water treatments but most will include immersing yourself in a series of herbal and mineral baths at different temperatures to relax, stimulate the body and aid its natural healing processes.
Warm baths (as many of you will know) are great for soothing muscle pain, but cold baths are just as effective. A cold bath works to decrease the body temperature and makes your heart rate drop within minutes, which is great for numbing inflamed joints and reducing blood flow to an area to minimise any swelling. Hydrotherapy plays on the effects different temperatures have on the body and involves and the healing benefits of going from one to another. Immersing yourself in cold water might not be what you fancy this time of year, but with a stressful period ahead – not to mention cold weather playing havoc with our joints – it might be just what the doctor ordered.