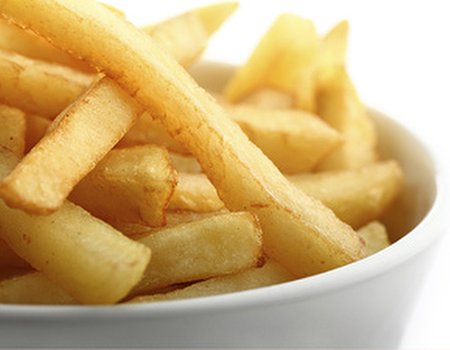 When it comes to fast food nothing beats the crispy golden skin and hot, fluffy centre of chip shop chips. Perhaps that's why every year in the UK we turn 1.6 million tonnes of potatoes into chips (that's the equivalent of 14,000 blue whales or 4,000 jumbo jets) and eat them with nearly three billion meals. In fact, us Brits love chips so much that we've declared next week National Chip Week.
That's right, from the 18th to the 24th of February chip lovers across the nation will unite in their love for the delicious potato treat and, well... eat chips. Here at Wahanda we love chips as much as the rest of you, but we also love healthy eating and realise that these deep fried wonders don't exactly fit into that category. We'd hate to miss out on the celebration so thought we'd chip in by coming up with a few healthy but tasty alternatives.
Sweet potato
Usually when we recommend healthy food alternatives we're trying to steer you away from sweet things, but not when it comes to potatoes. Sweet potatoes are packed full of vitamins like B6, C and D as well as iron, magnesium – great for stress – potassium and carotenoids that strengthen eyesight and boost immunity. Try yours seasoned with a little salt and pepper and baked in the oven, or fried in a small amount of vegetable oil.
Courgettes
When it comes to vegetables you probably couldn't get much further from a potato than a courgette but hear us out. Courgette's are low calorie (roughly 17 per 100g) and rich in anti-oxidants, potassium and vitamins A and C. Try peeling and chopping them into chip-shaped strips, coating in egg white, sprinkling with bread crumbs and a small amount of parmesan then baking in a hot oven. Delicious.
Wedges
A close relative to the chip, potato wedges are a great substitute because they taste just as good baked as they do fried. When making your own wedges be sure to leave the skin on to add nutrients to your meal. Like potatoes themselves, potato skin is a great source of vitamin C, B6, copper, potassium, zinc and protein. Leaving them on not only increases your intake, it also prevents nutrients escaping from the potato when it is cooked. Wash potatoes but do not peel, chop into wedges and bake for 30 to 40 minutes. Serve with low fat guacamole or salsa and feel those extra nutrients get to work.
Carrots
Not only can they help you see in the dark (sort of) carrots are also a low-fat, beauty-boosting alternative to chips. High in vitamin A and beta-carotene, carrots can help slow the ageing of cells, protect skin from sun damage, prevent dry skin, hair and nails and help your liver get rid of toxins. Try slicing them into thick strips, drizzling with a small amount of oil and sprinkling with chopped garlic and rosemary before baking in a hot oven for 20 to 30 minutes.
Oven chips
If tonight is take away night and carrots and courgettes just won't cut it with your cod, why not give oven chips a try. Not only will switching to oven chips save you money in the long run, they'll also cut your calorie and fat intake considerably. A 100 gram serving of oven chips has roughly 160-180 calories and 4-6 grams of fat compared to the 239 calories and 12 grams of fat in chip shop chips. Make the switch and you'll chip away at those unwanted pounds in no time.