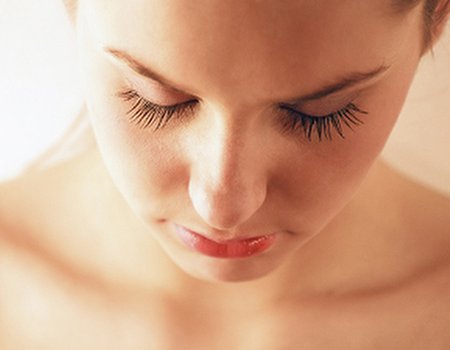 Halloween is approaching and we're all getting very excited. We've been stringing popcorn, planning our costumes, and some of us have even started with the face paint. Though this is a bit of a fun treat for us, there are some celebs out there (we don't like to name names but Katie Price, Jodie Marsh and most of the cast of TOWIE, we are looking in your direction) who make face paint quite a regular feature of their beauty regime.
So why the heavy eyeshadow, dolly lashes and claw-like nails? We think they might benefit from a little make-under. So as we get ready for the one day of the year on which we're supposed to look scary, we thought we'd prepare a little guide for how to tone it down and look a bit less terrifying the other 364 days...
Heavy eye makeup
There's nothing wrong with a bit of heavy eye makeup, but there is a time and a place for it. Dark eye shadow can look incredibly dramatic and nothing says sultry and mysterious like a smokey eye, but that's why it's such a great look for night time. Worn during the day and it's the wrong kind of drama – as in you've got two black eyes, or you haven't been to bed yet. Either way, not a good office look. Tone it down with shades of brown instead. Use a darker shade to line the upper and lower lids then blend with a light shade for an effect that is smokey yet soft.
Concealer
Some days concealer is a girl's best friend. Some days it's her enemy, or at least just that mean girl who pretends to be your friend but is really trying to make you look bad. Following a late night or finding ourselves in the midst of a breakout, we all look to our concealer for help, applying lashings of the stuff to bags and blemishes hoping they'll go away. A good idea in theory, except if you apply too much concealer you'll only make the problem more obvious. Disguise shadows and problem areas with a small amount of concealer, dabbing it gently with your finger until it blends in, before applying a light coat of foundation.
Blusher
The art of blusher has been used by women throughout history to cheat our way to gorgeous, striking cheek bones. Done right, blusher can give you supermodel bone structure in seconds - sort of. Done wrong, you're Bobo the clown. The best tip for natural looking blusher is to, first of all, make sure the shade suits you. Get an idea of your natural blush by gently pinching your cheeks, then go for a similar shade. Get a small amount on your brush (you can always add more later) and blow away any excess before applying to the apples of your cheeks then sweeping along the cheek bone. Smile while you blush and follow the natural contours of your face. Beautiful.
Big hair
Over the past couple of years the likes of Cheryl Cole have taught us that when it comes to hair, bigger is better. That's all very well if you're an international popstar with a three man entourage devoted to your hair. For most of us, however, it's an awful lot of upkeep for an effect that actually looks a bit silly when you're pushing a trolley around Sainsbury's. What's more, too much back combing and tonging weakens and damages hair, so give your poor locks a rest. Put down the brush and step away from the hairspray. Try going for something a bit more subtle and ask your hairdresser for a bouncy blow-dry to add some volume for a special occasion. Or for a lasting effect try a Brazilian blow dry - you'll be sleek and smooth in no time.
Fake tan
Did you know that fake tan is the number one cause of beauty disasters in the UK? We might have made that up, but we've all seen or suffered a bad fake tan in our time so we're pretty sure it's the latest beauty epidemic. Overly-orange and serious streaks seem to be the main offenders, so as we find ourselves approaching November we urge you all to put down the self tan and embrace beautiful pale winter skin. No? Well then how about trying a professional spray tan? You can speak to an expert about a look that will suit you and even appear natural. Best of all, you're guaranteed a much less streaky result than if you do it yourself.