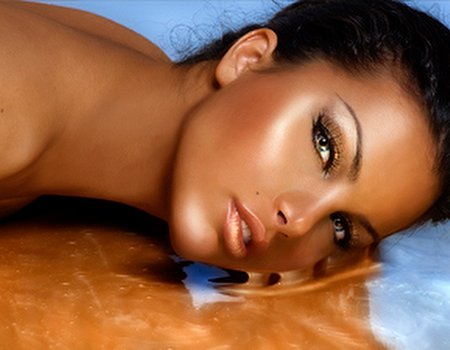 Health and beauty experts that we are, at Wahanda we like to think we're pretty up-to-date with most modern day treatments and therapies. We love nothing more than making new discoveries and – even better – testing them out. But to get a full understanding of anything it's no use just looking to the future, sometimes we need to look at the past as well. So in our quest to find out all we can about looking and feeling good, inside and out we've gone right back to ancient times and unearthed a treatment tried and tested by none other than Cleopatra.
Famed for her incredible beauty, Cleopatra is believed to have slept in a solid gold mask every night to maintain a youthful, glowing complexion. It looks like Cleopatra was onto something, gold stimulates collagen and elastin, firming skin and reducing lines and thanks to a bit of modern day science, there are now easier ways to benefit from the beautifying properties of gold inside and out. As always, we selfless souls at Wahanda have taken it upon ourselves to test them out.
Skin truffle
This luxury moisturiser from Temple Spa took five years to develop and now that it's finished we can see why. Using the latest in nano and peptide technology, as well as extracts from some of the finest ingredients in the world (including champagne, black truffle, diamond powder and gold) Skin Truffle can be used as an everyday moisturiser (Cleopatra eat your heart out) or a restorative boosting treatment before a special occasion. This luxurious cream is thick but easily absorbed and relatively fragrance-free meaning it is suitable for all skin types. After use skin feels soft and nourished with a very subtle hint of a gold shimmer – radiant rather than sparkly. At £80 for a 50ml jar it's a little pricey but if you've been very good this year it's certainly worth popping on the Christmas list.
Gold collagen
OK there's no actual gold in this one, but if this was the skin collagen boosting Olympics these little bottles would be taking home gold. Gold Collagen is a liquid food supplement containing a blend of active ingredients and up to 50 times more hydrolysed collagen (5000mg) than other collagen creams and supplements. Collagen is the main structural element of the skin and makes up 75 percent of young, healthy skin. When consumed, Gold Collagen is distributed through the blood levels to a deeper layer of skin than anti-ageing creams can reach, where it stimulates the collagen making cells. Tests on women aged 35-55 saw a 30 percent reduction in fine lines and wrinkles in 12 weeks and a 28 percent increase in hydration in eight weeks. Gold Collagen can also improve condition of hair and nails and best of all, it tastes like peaches.
24 Carat gold facial
Solid gold masks are a bit harder to come by these days – not to mention very uncomfortable to sleep in - but fortunately the 24 carat gold facial is here to take their place. This non-invasive skin rejuvenating treatment involves a hydrating massage and nano-misting before sheets of pure gold are placed over the face, misted again and massaged gently. When the skin comes into contact with gold it tries to reject is as a foreign object, and is forced to build new cells. The treatment therefore accelerates the speed at which your skin builds cells, boosting circulation and reducing appearance of lines and wrinkles. After, the skin is left looking refreshed and feeling firmer, tighter and very spoiled.