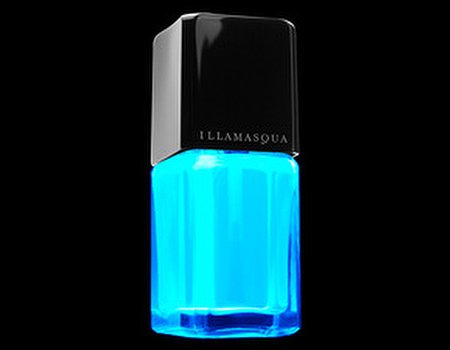 Each new season brings with it a few necessary updates. With the arrival of spring we've been swapping woolly hats for felt, heavy winter scents for lighter floral fragrances and dark berry lips for, well, lighter berry lips - very 2013. Then there's that all important summer glow. Whether you get yours from the sun, a bottle or some cleverly applied highlighter, this spring/summer the word 'glow' is taking on a whole new meaning. Ladies, grab your platforms and get ready to nod to the sixties with one of the season's most daring beauty trends: glow in the dark make up. That's right, we're getting groovy with UV…
The neon trend has been big news for a couple of years so it was only a matter of time before one brave designer took the plunge into full on luminescence. Last year that designer was Alexander Wang who closed his spring/summer 2013 show with a lights-out parade of models sporting glow in the dark clothes and luminous hair partings. The parade was met with a huge round of applause and immediately got people talking about how to incorporate this statement look into every day life.
So how do you incorporate this daring trend into your life without the Day-Glo parting? (No offence ladies but we think that one's best left to the supermodels.) Go for a touch of a glow on the lips, eyes or nails that passes for neon throughout the day and shows its true colours when night falls. Luckily for us two of our favourite make up brands, Stila and Illamasqua, are bringing out luminous collections just in time for summer.
Due to launch next month, Stila's Festival of Colour collection will include tie-dye inspired eye shadows, turquoise liquid eyeliner and, most exciting of all, an After Glow Lip Colour. These nourishing lip crayons come in six different shades that react with black lights causing them to glow. Even with the lights on the glow pigments within the colour glow three times brighter than ordinary shades in the sun - we can't wait.
If you're a less-is-more kind of girl, the nail polishes in Illamasqua's brand new Paranormal collection might be a better fit. Within the collection you will find three vivid nail shades (pink, violet and green) that become even more vivid when exposed to UV light, plus a clear top coat that goes on unseen but will transform any ordinary shade into something psychedelic under a black light. Paranormal only arrived in Illamasqua stores this week but if it sounds like 'your kind of bag' (sorry, we've gone all sixties) you better take a look before it sells out.
Prepare for a summer of love everyone; things are about to get truly groovy (baby). Sorry.