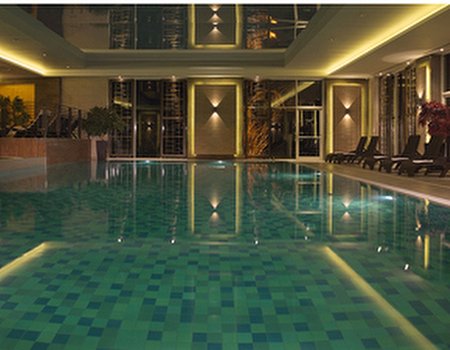 This week sees the arrival of one of the biggest cinematic releases of the year Baz Luhrmann's The Great Gatsby. Following months of excitement and anticipation we've all gone a little gaga for Gatsby and the roaring twenties haven't been so popular since, well, the roaring twenties. Here at Wahanda we're embracing the era's unique style by paying special attention to our favourite 1920's-inspired Art Deco spas. So if Luhrmann's 3D experience doesn't fulfill your flapper dreams why not immerse yourself in full on Gatsby glamour at one of these Jazz Age gems…
The Dorchester
After closing for renovation the Dorchester Spa on Park Lane reopened in 2009 with a brand new look: deco fabulous. Combining early 20th century glamour with a contemporary edge, the spa took its inspiration from the quintessentially British style of the Dorchester Hotel. Decadent touches include velvet sofas, a relaxation room decorated with navy blue walls, a chandelier made from south-pacific pearls and touches of gold, white and bronze throughout. The treatments on offer are just as lavish with hairdressing from Carol Joy London, a signature treatment from Shiseido and an entire menu from some of the most celebrated names in skincare including Vaishaly and Aromatherapy Associates. The spa is also home to the unique and indulgent 'Spatisserie' where molls and flappers can enjoy light lunches, afternoon tea, Champagne and cocktails – not the bootleg kind of course.
The Porchester
The oldest Turkish Bath House in London, The Porchester Spa in Queensway is a ritzy haven away from the hustle and bustle of the capital. Voted London's favourite pool in 2005, the Art Deco Porchester Baths hail from a time when running water was hard to come by and bathing was a social occasion. The baths have kept their original green and white tiles, high ceilings, spiral staircase and Art Deco statues allowing guests to float back to another time and forget all the stresses and strains of the modern world. Guests are free to enjoy the spa's facilities including the 30 metre swimming pool, three Turkish hot rooms, two Russian steam rooms, cold plunge pool, whirlpool spa and sauna. The spa also offers a menu of traditional, revitalizing treatments and is open seven days a week although continues to operate a male/female-only policy according to the day. That's dappers on Monday, dolls on Tuesday, in case you were wondering...
The spa at Sopwell House
Set among 12 acres of picturesque gardens in St Albans, Sopwell House (pictured) is every inch the traditional Georgian manor – until you pay a visit to it's recently renovated spa, that is. The spa takes its inspiration mainly from Japan, but the stunning Art Deco swimming pool (complete with mosaic tiles and geometric shaped lighting) would not look out of place surrounded by glamorous cocktail-wielding guests at one of Gatsby's infamous parties. In keeping with the indulgent tone set by the 14.5 metre heated pool, the spa offers a wealth of tempting treatments from beauty giants Clarins, ESPA and Jessica, as well as a Jacuzzi, starlit steam room, sauna and 'experience showers' with a heated mosaic seat. Throw on a feathered headband, a dash of rouge and grab your cigarette holder (minus the cigarette of course), and get ready to pamper like it's 1929.