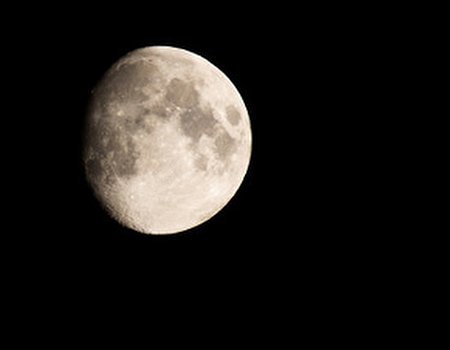 Noticed any strange goings on lately? Did the neighbours miss rubbish night? Perhaps your office has been hit by a fluke sneezing epidemic? Have you seen any particularly big dogs? There's only one explanation: the moon. Not just any moon mind you, a full moon.
Bad moods, insomnia, epilepsy, even a full-on body transformation. Over the centuries the full moon has taken the blame for all kinds of inexplicable occurrences. In more recent decades science has provided us with other explanations - and reassured us that werewolves don't exist, phew – yet many of us still claim to be affected by the various phases of the moon. So, inspired by this week's full moon (not in a spooky possessed way) we decided to investigate ways in which the moon cycle affects us and most importantly, how it might affect our beauty regime.
Sleep
One of the most common full moon complaints, even today, is the reported effect it has on our sleep - notably bad or vivid dreams, disturbed sleep and even insomnia. Scientists offer two possible explanations. Firstly, a full moon makes the sky brighter and without good blinds or curtains this can make it harder to get to sleep. Secondly, we all go through phases of disturbed sleep due to anxiety, the food and drink we have consumed throughout the day or sometimes because we didn't get up until 12. If these nights occur during a full moon we're more likely to notice it and draw a connection, while the other twenty-something nights of the month we probably wouldn't notice.
Menstruation
Throughout history people have believed that the moon cycle and women's menstrual cycle must be linked, based on the fact that both are natural processes that occur monthly. Us girls quite like this theory because it makes us feel spiritual and important, but alas, science says there is no such link. Menstruation varies greatly in timing and length from woman to woman depending on lifestyle and health, and since we are generally not in sync with each other or the moon there really isn't much evidence to support the theory. At least that puts to bed any werewolf/PMT comparisions.
Beauty
There are eight phases in the monthly moon cycle, four of which (some believe) should dictate our beauty regimes. Not convinced? Hear us out:
Phase one: the 'Waxing Moon' A misleading name as this first crescent moon cycle is not the best time to get waxed, but rather an ideal time to indulge in any rejuvenating treatments. This moon is believed by astrologists to represent new beginnings and starting over and is the optimum time for facials, moisturising and oil-based massages.
Phase two: the 'Full Moon' Nothing spooky about this one; as the moon grows to its fullest it is believed the skin's absorption grows too, making the duration of the full moon the best time for pampering (yay). But beware - pain is allegedly heightened at this time of the month too. Avoid waxing, plucking and anything else that makes you squeal and relax in a nice bubble bath instead.
Phase three: the 'Waning Moon' As the full moon shrinks, now is the time to banish bad habits and negative feeling – according to astrologists anyway. Attempt a bit of purification with mud and clay treatments, steam rooms and saunas and lymphatic drainage. This is also a good time to think about beginning diets and fitness regimes.
Phase four: the 'New Moon' When the moon is at its smallest, this last phase of the cycle is the best time for a detox so get yourself ready for the cycle to begin again with cleansing treatments. Also, take advantage of the fact that pain is apparently lessened during this phase and book that wax you've been putting off all month.
Convinced? We're not sure either. There's only one way to test the theory, and since we're currently in phase two of the cycle (aka pamper time) we're heading off for a nice relaxing full moon massage. We'll report back with our findings.