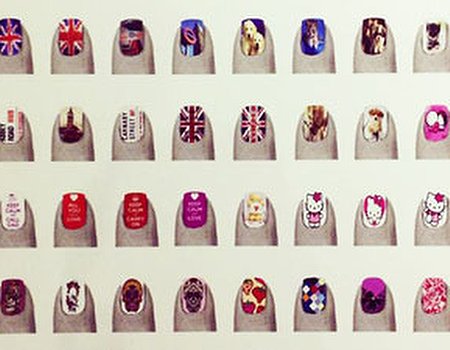 Nail art has been big beauty trend for a few years now and it's set to continue throughout 2013... not that you'd notice. All this cold weather means gloves have been something of a necessity these past few months and fancy fingernails have gone unnoticed. Well, as we approach the start of spring and anticipate the arrival of some warmer weather – ignore the snow for now – we've been getting very excited about whipping off our gloves and dazzling the world with our favourite new beauty discovery: Flash.On Nails.
Originating in East London, Flash.On Nails is a new nail design brand making waves in the beauty world with its focus on individuality and plea to women everywhere to 'set your nails free'. Unlike other nail design brands, Flash.On uses groundbreaking nail machines to transform patterns, pictures or personal photos chosen by a customer into a unique set of nails in, wait for it... a flash.
The brand have recently opened their first concession in Topshop's flagship store in Oxford Circus where customers can pose for photos and have them printed directly onto their nails in a matter of minutes. The machines also have a USB port so customers can arrive armed with flattering or funny photos, upload them and watch them transform into nail art. If you don't fancy having your own face on your fingertips, Flash.On have their own library of photos to choose from ranging from London Underground stations, to One Direction (one of the most popular prints we're told) to Wills and Kate and HRH herself- if anyone's feeling particularly patriotic.
For customers who can't make it into the store, www.flashonnails.com can provide you with a unique set of nails without you even leaving the house. Simply upload a photo or choose an image from Flash.On's extensive (and eclectic) library, then select your preferred nail style from standard, long or toenail and wait for your one-of-a-kind nails, topcoat and glue to be delivered.
So, if you've got a unique style or special occasion on the horizon (we see this being big for hen dos) but you don't have the time, tolerance or toothpicks for nail art, it's time to join the nail revolution. Do so before Friday with a set of Red Nose Day nails and Flash.On Nails will donate 50% of sales to the cause.
Tired of all these grey skies and dark evenings? It's time to 'turn the flash.on'.