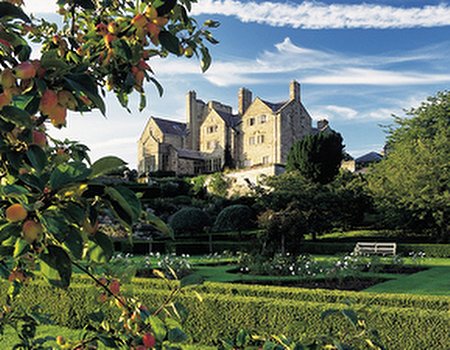 Now we love coming to work at Wahanda HQ, but even we find five days a week can be a bit much in the city at this time of year. The weather's getting chillier, every morning is darker than the one before and pretty soon it'll be dark at 5pm too.
Thankfully, we're here to make sure you don't give in to the autumn and winter blues. It might be cold and wet outside but hibernation is for animals, not people who need to go back to work on Monday. At this time of year, it's especially important to make the most of your weekends so to ease you in we've come up with this little list of perfect weekend spas to get you relaxed, refreshed and ready for Monday morning. Best of all, they're all less than an hour from some of the UK's main cities, meaning you won't have to venture too far in the cold.
London
Less than an hour from the big smoke lies royal Ascot. Most famous for its horse racing, Ascot is also home to one of the country's only eco-luxury spas, Coworth Park. Partially submerged in the English countryside Coworth Park is a green and sustainable building, flooded with natural light and built using only natural materials (lime hemp walls don't you know), making it the perfect place to escape the fog, smog and chaos of our capital. Get pampered with an English Rose Wrap or if you've had a particularly tough week let the Lavender Field of Dreams treatment gently float away all your stresses and strains. 1,2,3, aaaaah.
Manchester
Set in 38 acres of Cheshire countryside, the Rookery Hall Hotel and Spa is less than an hour's drive from busy Manchester, but you'd never know it. Built in 1816, Rookery Hall's history of luxury is clear to see. The spa was once a stable but has now been converted to include eight treatment rooms, a relaxation room, an indoor swimming pool and fully-equipped gym. Choose from a selection of treatments, spa days and over-night spa breaks including the 'Be Inspired' and (our fave) 'Be Spoilt' break. Don't mind if we do, thanks!
Newcastle
The Serenity Spa at Seaham Hall Hotel, a 30 minute drive from Newcastle, was recently voted best UK destination spa by Conde Nast Traveller and it doesn't take much to see why. With an Oriental design and a focus on relaxing water treatments, the Serenity Spa takes its inspiration from Feng Shui, creating an atmosphere of complete calm. There are more than 45 luxurious treatments to choose from but for a real weekend treat book a Sushi and Bubbles Spa Day for you and the girls. Go on, you deserve it.