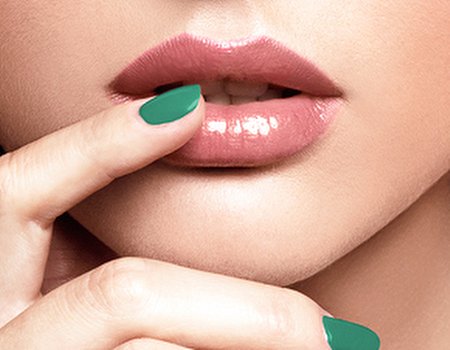 When predicting 2013's biggest nail trends at the start of the year we told you emerald was going to be big, and it gives us great pleasure to announce: we told you so. While we would like to claim this is evidence of our psychic capabilities, we'll admit we did have a few hints from top names like Stella McCartney, Christian Dior and Kenzo, who featured the shade on eyes and nails in their spring 2013 shows. There was also the small matter of colour agency Pantone naming it 2013's 'Colour of the Year'. With a number of nail brands bringing out emerald shades in time for summer it seems having green fingers is cooler than ever. Here are our five favourite shades…
Nails Inc – Queen Victoria Street
The newest addition to the Nail's Inc collection, Queen Victoria Street is a vibrant and glossy shade of green that was made for sandal season - seriously. The summery shade of emerald will only be available for a limited period, so if you want to nail this season's trend you'd better snap it up while you can.
Barry M – Emerald Green
The name says it all. Emerald Green by Barry M is a bright and shimmering shade of green that is quick drying, long lasting and costs just £2.99 per bottle. The perfect balance between metallic and bright, this shade is the best way to get 'notice me nails' this season. Not one for the faint hearted.
Illamasqua - Viridian
For a darker take on metallic, Illamasqua's Viridian is sultry, sophisticated and, somewhat understated. Not the classic choice for warmer temperatures, this wintry shade will add a little edge to a summer wardrobe. The touch of blue and metallic finish prevent it from being overly dark, making it an elegant alternative to the summer shade. Best of all, it'll look great with a tan.
Gelish - Polar Attraction
If you're a fan of the two week manicure (aren't we all?) you'll be pleased to learn that gel nail brand Gelish have a few emerald greens that are available at salons across the country. We love 'A Runway for the Money' and the metallic 'Polar Attraction'. Find a gel manicure near you to see you through the summer.
butter LONDON - Jack The Lad
For something a little different, butter LONDON's Jack The Lad is a dark shade of green lightened up by flecks of gold, turquoise and green microglitter. With more sparkle than a real-life emerald, this bad boy is the perfect glittering green to see you through festival season and the odd glam summer evening.