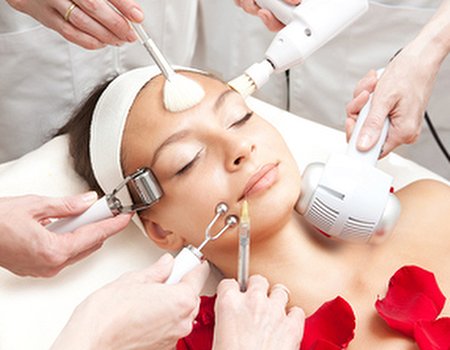 The New Year brings with it plenty of opportunities for change. New Year's resolutions have us changing our diet, changing our routine with new hobbies and fitness plans, and changing the way we feel about ourselves by finally quitting bad habits. If you manage to stick to your resolutions that's great, but change can be hard and setting yourself difficult goals can lead to failure.
We don't like failure here at Wahanda, so we've been thinking of changes we can make that are small and simple but still guarantee a big impact. So, if you're not quite ready for that top to toe make over, or your new gym routine isn't quite going to plan, take a look at these easy ways to update your look in 2013…
Hair Veiling
We all know one of the easiest and most effective ways to change your look in an instant is to change the colour of your hair. But if all those years of experimenting with dye throughout our teens have taught us anything, it's that radical changes should be thought through carefully. That's why we're so excited about one of this year's biggest hair trends: hair veiling.
Veiling works by colouring hidden panels of hair so that when it is flipped, or the parting is changed, the colour is exposed. This creates the illusion of all over colour, while also allowing you to go back to your usual style in just one flick of those luscious locks. We've been thinking about hair veiling ever since we reported on Jo Hansford's Night and Day colour service back in September. The Night and Day service is available in a range of different colours for just £100. So, if you've always wondered if blondes really do have more fun, or what you'd look like with a shocking pink do, there's a new way to find out.
Update your manicure
2012 surprised us all with the caviar, velvet and sequin manicures, and it seems that the textured nail trend will be just as big in 2013. Easy to change if you don't like the results, but noticeable enough to add a little something new to your look; nails are a great, subtle way to try something different.
Update your manicure by opting for one of this year's must-have finishes: concrete or sand. We love the Concrete collection from Nails Inc. Available in four different shades - our favourite is the very red Marble Arch - the innovative formula of these polishes creates a unique texture that gives you a bold, rugged finish. If that sounds too subtle for you try new Liquid Sand by OPI. Part of their Mariah Carey collection, these shades create a textured, matte finish infused with reflective sparkle - well, the new year is a time for reflection. See what the liquid sand effect looks like on beauty experts, Milk's blog here www.milchbeauty.co.uk
Find a cut that flatters
Although we might curl, dye or straighten it, when it comes to our hair all women really want is a simple style that we know suits us. That explains why, from time to time, we might find ourselves caught in a style rut, wearing our hair the same way we did ten years ago, afraid to update it. If that sounds like you, take a trip to Errol Douglas Salon to try out their signature "face framing" service.
The service involves creating a colour to complement a client's eyes, skin-tone and age, then applying it to key light-reflecting areas around the face. This creates warmth that will highlight the best parts of the facial structure, and soften the features of more mature clients for an anti-ageing effect. One of the salon's colour masters says: "carefully placed coppers and chestnuts on brunettes or redheads, and honey or pearl tones on blondes, instead of block colour, really does ensure my clients look fresh and young at any age". If you're stuck in a hair rut and want a guaranteed flattering way to update your look, call 0207 235 0110 to book a consultation today.