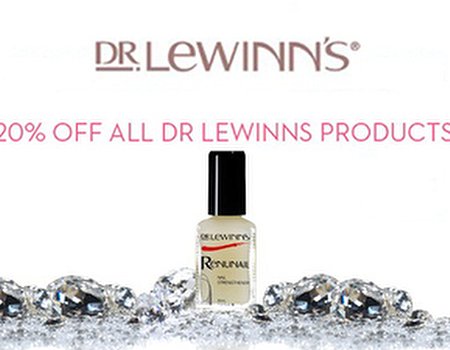 This time of year can be tough on beauty. Over the past few weeks you might have noticed an increase in red faces, dry skin and wind-swept hair around you – we know we have here at HQ. We don't mind though because at least we're all battling the elements together - like a somewhat disheveled army. It does, however, strike us as a little unfair that when flicking through our favourite magazines we are faced with photo after photo of flawless-looking celebrities.
How do they do it? With trade secrets and advice from experts not to mention a plethora of A-list products (with A-list price tags). So how are we mere mortals supposed to compete this winter? Well actually, we've discovered a nail and skin-care range that might be just what the doctor ordered. Dr LeWinn that is.
Dr LeWinn's cosmeceutical skincare and Renunail award-winning nail care is used and adored across the world by celebrities, celebrity makeup artists and even real women like you and me. So what makes this range so special? These premium products were created by distinguished plastic surgeon Dr LeWinn (whose expertise were sought after by dermatologists and celebrity clients throughout his career) in order to combat the visible signs of ageing.
Dr LeWinn followers swear by the brands hero products: Dr LeWinn's Renunail Nail Strengthener (£17.50) and Instant Beauty Radiance Booster (£26). The Nail Strengthener - fortified with calcium – helps nails grow without breaking and eliminating peeling and flaking. But it's the Radiance Booster that has us most excited. Made from an unusual concoction of aloe vera (70%) and rice bran, this skincare saviour is a moisturiser that doubles up as a nourishing face mask, and promises to add serious staying power to make-up. Sounds like just what we need to survive this weather.
Fancy a little A-list help this season but don't have a celebrity bank balance? Visit www.drlewinns.co.uk before the end of November and Wahanda customers will receive a 20% discount on any purchases simply by entering the code Wahanda20. Might make Christmas shopping a little easier too.