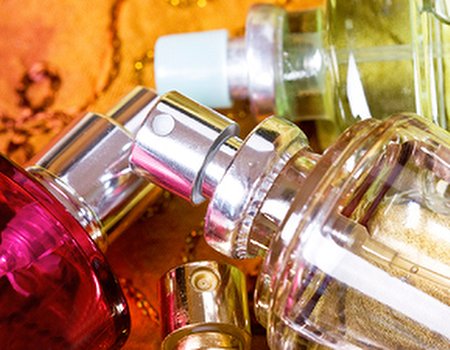 Mulled wine, hot Christmas pudding and maybe even a log fire. Christmas is full of comforting and familiar smells that can take you back to Christmases past and rekindle that childhood excitement in just one whiff. Do you know what we think the most exciting smell this time of year is? That first spray of a brand new perfume delivered by Santa on Christmas morning.
Although more extravagant than a book token or satsuma in your stocking, perfume has long been a traditional present to give at Christmas – just ask the wise men who came bearing frankincense and myrrh. Along with crackers and stuffing, perfume-giving is one of our favourite Christmas traditions and we like to encourage it – especially among our friends and family. This Christmas perfume sales are predicted to increase by 6% compared to last year, creating what experts are calling a fragrance boom. If you fancy getting in on the action or are stuck for gift inspiration, take a look at our top five newly-released perfumes that are guaranteed to make someone smile this Christmas morning.
Boss Nuit Pour Femme
The perfect accompaniment to party season, Boss Nuit pour Femme was inspired by the Little Black Dress and we think it's just as timeless and elegant. With base notes of crystalline moss and sandal wood the effect is modern but feminine and is designed to reflect a woman's strength and sensuality. The overall scent is floral - made up of white flowers, jasmine and violet – and a touch of peach. Designed to complete your favourite party outfit, this perfume promises 'this will be your night' and will make the prefect present for any elegant ladies in your life.
Lush Gorilla Perfumes
Natural cosmetic brand Lush sees making perfume as an art form and confess much of their work is "heavily influenced by poetry and music". Their new range of Gorilla perfumes is evidence of this. These scents take inspiration from everything from folklore (Hellstone) to the beat generation and figures like Leonard Cohen (The Voice of Reason). These perfumes make great gifts for anyone who likes to be a little different. The Bug, for example is a 'protest perfume' set to reflect the paranoia of the modern age's CCTV and hackers, creating a disjointed scent using unique fragrances like galbanum and black pepper. Ideal for any unique souls who might be searching for themselves… or their signature scent.
Prada Exclusive No.14 Rossetto
The fourteenth addition to the brand's Essences Exclusives collection, No.14 Rossetto launched exclusively in Selfridges earlier this week. This range of luxury fragrances uses only precious natural ingredients and is regarded as something of a holy grail in the perfume world, sold only in selected stores for around £130 a bottle. Taking its name from the Italian for lipstick, No.14 Rosetto is a pink liquid in a clear glass bottle adorned with a simple set of red lips. With notes of rose, violet and raspberry, vanilla and indeed lipstick, the effect is sultry and feminine. Designed to evoke nostalgia and modernity, torn between softness and power this fragrance is everything you would expect from Prada and should be reserved only for those who have been very good this year.
Avon City Rush for Her
Avon's new fragrance City Rush for Her is a sophisticated scent perfect for any on-the-go city dwellers. With Milla Jovovich as the face of the fragrance, City Rush epitomises strong stylish women everywhere. With base notes of wood, patchouli flower and musk mixed with black dahlia, plums and bergamot, the effect is mysterious, alluring and somehow very modern. City Rush for Her is all about empowerment and with its promise to 'turn the streets into your runway' it certainly makes us feel that little bit more confident. If you want to show someone else how important they are this Christmas, at £15 a bottle this makes the perfect stocking filler.
Ted Baker Sweet Treats Cate, Vida & Polly
Inspired by the brand's Sweet Shoppe pop-up accessories stores, this Christmas Ted Baker are launching a trio of fragrances called Sweet Treats. Each fragrance has a different name and a different personality, but are equally delicious. All you need to do is decide which best suits the person you're buying for: Cate, Vida or Polly? Each scent comes dressed like a slice of cake in a pastel, triangular box with it's own intriguing back story. We want to be Vida 'a wild child with a naughty streak a mile wide' who smells of exotic grapefruit, raspberry and heart of wild rose. These scrumptious scents cost just £15 each, which means if you just can't decide you can always get all three.