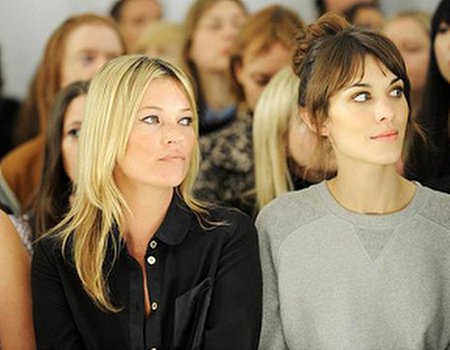 It's officially autumn but the weather in the UK is being typically non-committal and it's got us all confused at Wahanda HQ. With sunshine one day and showers the next, it's proving very difficult to plan weather-appropriate hair and makeup. Just last week we had not only a wind provoked hair-in-lip-gloss situation but also an unexpected 'Code Frizz'.
So, to keep us looking our usual polished selves, we've looked to the experts for guidance. By experts, we of course mean famous people. As the new season begins and the super-stylish are out in force we've been taking notes and have compiled this list of top looks we're keeping our eyes on.
Dark hair
The 'new goth' has been big news in the beauty world since designers like Jean Paul Gautier, Givenchy and Cavalli all featured the look in their autumn/winter collections earlier this year. But this is a daring look and done wrong it can have disastrous results – Halloween's not until next month people.
We love the way Lana Del Rey updated her classic look, just in time for LFW, nodding to the gothic trend with newly-dark and, may we say very glossy, locks. The darker shade works beautifully with her pale skin tone and signature winged eyeliner and it's got us all thinking about a trying a darker shade this season.
Nude lips
Every new season brings with it a new lip. An orangey hue was the lip du jour of the summer months but according to some of the most important front rows - Mulberry of course (pictured) - this latest lips are nude. This is a look we noticed at some of the shows at New York Fashion Week and it seems some of our most beauty savvy celebs (good old Kate Moss among them) have already picked up on it.
The real beauty of this lip is that you can't really get it wrong - unlike some more dramatic trends we've seen recently, neutral colours suit pretty much everyone and, even better, they make lips look plumper. Join the beauty elite and try a nude lipstick with a matte finish.
Butter wouldn't melt
If there's one fashionista we've learned to pay attention to during London Fashion Week, it has to be Alexa Chung. Spotted at all the major shows she's been debuting a host of different looks. We love the ballerina bun she wore to Mulberry, but our favourite look has to be the cute-as-pie side ponytail she wore to Christopher Kane's show.
Alexa's look is often seriously fashion and a little androgynous and while it looks fab on her, we're not so sure it would work on us. This side-swept pony, tied with a neat bow however, is simple, relaxed and feminine and we can't wait to copy it. We predict a lot of bows in the Wahanda office tomorrow.
Photo from alexachungblog.tumblr.com