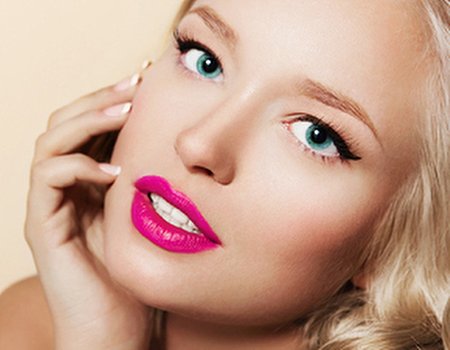 Living in the UK you learn pretty quickly that the best way to add a ray of sunshine to a dreary 'spring' day is with a pop of colour. Hardly surprising then that neon shades and colourful prints are everywhere right now. If you want to add some colour to your spring, but fluoro hotpants aren't your thing (rhyming is our thing), there is another way you can embrace this bold trend: on your lips.
Classic, 'grunge' or neon. Whatever your makeup style, this season is all about bold lips and there were three shades that stood out on this year's spring/summer catwalks: red, pink and berry. If you haven't picked your favourite yet don't worry, we've put together a simple guide to striking summer shades to suit every skin tone (yes we like alliteration too)…
Red
From Burberry to Jean Paul Gautier, red lips were all over the spring/summer '13 catwalks in a variety of shades and on a variety of skin-tones, proving there really is a shade of red for every woman. It's just a case of finding 'the one'. Fair skinned ladies look great in a classic red like Kate Moss for Rimmel in 01, while medium skintone's have the warmth required to pull off orangey shades like Topshop's Rio Rio beautifully. Darker skinned ladies should take a leaf out of Prada's book this season and go for a nearly neon shade of fire-truck red like the aptly named Heatwave by Nars.
Bright Pink
If catwalks have taught us anything this year it's, number one, Cara Delavigne is not going anywhere, and number two, bright pink lips suit everyone. Featuring in Giles and Oscar de la Renta's spring/summer shows, fuschia lips are a trend we can all try… and try we will thanks to our new favourite shade from Bare Minerals. Their new lip range 'Moxie' is all about "Shameless sass, all-out spirit, total passion overload with plenty of attitude to match" and showing it off via lipstick, gloss and liner. Earlier this month we went along to the launch and fell in love with the very pink 'Never Say Never'. Moxie launches in the UK next month and we can't wait to get our hands on the entire range.
Berry
Synonymous with smokey eyes and dark lips, the grunge look is usually associated with wintry tones, but, done right, it's also very summer 2013. To avoid unveiling your inner goth this season stick to shades of dark brown and shimmery bronze around the eyes and berry on the lips. The wrong shade of purple can make fair skin look even fairer, (not what most of us are aiming for in the summertime) so if that sounds like you stick to softer shades like Clinique's Chubby Stick in Broadest Berry. Medium and darker skin can pull off stronger shades all year round (like the gorgeous Jourdan Dunn at Johnathan Saunders). Try Mac Lipstick in Cyber for a spring/summer look that's slightly offbeat - a bit like this weather...