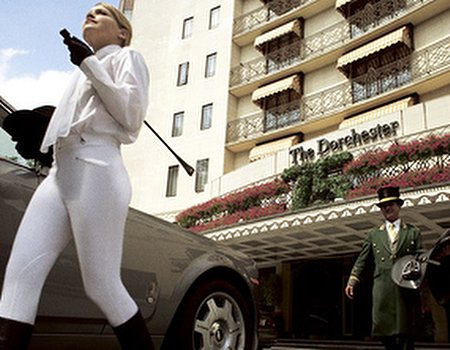 We don't know quite how it happened but somehow we woke up this week and found ourselves in October. Which means two things: that holiday we were planning only yesterday came and went months ago, and now we've got nothing to look forward to until Christmas.
It's time to liven up the calendar and pencil in some fun days out. We're thinking shopping, sight-seeing and, of course, a little bit of beautifying. Make the most of your days out this season and schedule a stop off at some of our favourite beauty hotspots around the country.
London
Did Olympic mania have you avoiding London this summer? Now's your chance to get in a little sight-seeing, one of the most fun and least expensive ways to spend a day in the capital. Whether it's watching the changing of the guard and waving to the Queen from the gates of Buckingham Palace, or scaring yourself silly at the London Dungeons you won't be stuck for things to do. In fact, there's so much to do and see that you'll probably find yourself in need of a good old cup of tea. Cross another thing off your 'to see' list and book yourself in for afternoon tea at one of the city's fabulous hotels. We love the Dorchester for a spot of tea, cake and celeb spotting. Just don't forget your P's and Q's and try not to spill.
Liverpool
Heading to Liverpool for a spot of retail therapy? We don't blame you, especially as Harvey Nichols is set to open its first ever Beauty Bazaar in the Liverpool ONE shopping centre this autumn. "What's a Beauty Bazaar?" we hear you ask. Well it's pretty much all you could imagine and more. Set to be the UK's one-stop destination for all things beauty, the Beauty Bazaar will cover three floors, housing all the nation's favourite beauty brands and offering a range of services from Botox to brow bars, to champagne and cocktail bars. So when all that buying gets a bit too much, or you chip a nail on an oversized shopping bag, head to Harvey Nicks and relax with a soothing treatment and a glass of bubbly.
Edinburgh
If you're looking for an exciting day out or weekend away, Edinburgh is the perfect destination. Edinburgh has it all; a cobbled Old Town, a Georgian New Town, historic attractions, gardens and some of the best shopping and restaurants in the country - and in the heart of it all a wonderfully relaxing spa. The spa at the Balmoral Hotel offers the ultimate urban retreat. With a prime location, soothing atmosphere and range of beauty treatments and services that does not disappoint it's not to be missed if you're planning a trip to the Scottish capital.
Bath
For a day out that is as educational as it is relaxing, head to historic Bath and enjoy the shopping, architecture and – if you haven't already guessed it - the baths. The Thermae Bath Spa is Britain's only naturally warm mineral water bath which dates back over 2,000 years when it was enjoyed by the Romans and Celts. It's been slightly updated since then and now offers services including body wraps, hydrotherapy and mud treatments all designed to ease the body and soothe the mind. We don't mind if we do. When in Rome... well, sort of.
Brighton
After a day on your feet in Brighton strolling through the cobbled Laines, walking over pebbles and paddling in the icy waters head to the pier for oysters, dodgems and even a pedicure. Asase, is a fish pedicure and massage spa situated on the one and only Brighton pier. The experience is fun, quirky and somehow very 'Brighton', but if you're worried it'll put you off your fish and chips, the mini spa also offers more conventional treatments including Indian head massage, Swedish body massage and traditional pedicures.