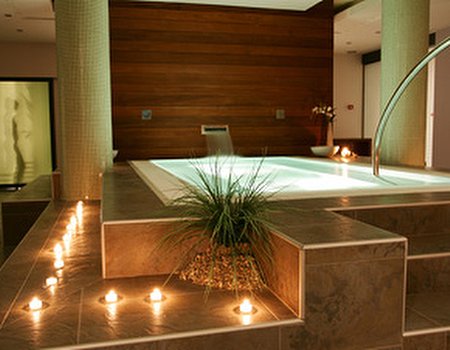 Well we never thought we'd hear ourselves says this (or see ourselves write it) but faced with our second bank holiday of the month this Monday, we're not really sure what to do with ourselves. Having already devoted one Monday this May to DIY and spring-cleaning, our to do list is looking pretty bare. There's always the trusty bank-holiday-barbecue, but with the weather set to be somewhat temperamental we could be looking at a wet weekend and soggy buns all round.
We don't know about you but we'd rather spend our day off somewhere warm, dry and impossibly comfortable. There's only one thing for it: a spa day. But which one? Here at Wahanda we know that no two people are the same so we believe that no two spa days should be the same. That's why, just in time for the long weekend, we've come up with five different spa days to help you while away the hours in luxury. Take your pick…
Health spa
If working 9-5 has you feeling a little worn out a full-body MOT at a health spa might be just what you need. Health spas combine the indulgence of a normal spa with medical, nutritional, fitness and general health expertise, so if a day of pampering makes you feel guilty (we don't know why it would either) you can rest assured that you're doing some good to your health and wellbeing as well as your toenails.
Man friendly
While it would be something of a generalization to suggest that all men hope to spend their bank holiday practicing DIY (in fact, we have it on good authority this is not the case) we realize that for many males the promise of a day of pampering at a luxury spa doesn't always appeal. Thank goodness for the many spas across the country that welcome reluctant men with open arms, a range of 'manly facilities' and treatment menus catering especially for them. Take note boys, here are some of our favourite male-friendly spas.
Afternoon tea
If you've got big plans for Monday morning (we're planning a very long lie-in) but are at a loss for what to do for the rest of the day why not treat yourself, and a friend if you feel like sharing, to afternoon tea. Combining a love of sweet treats with some much-needed TLC, an afternoon tea spa day is the best way to have your cake and eat it this bank holiday…or any day now you come to mention it.
Take a friend
When we get given an extra day off it's a great excuse to catch up with the friends we always mean to see but never get the chance thanks to work, family and television-watching commitments. So where's the best place to hold an overdue catch up? A spa of course. Full of comfy seats, yummy treats and often a few treatments for two, a spa day for two is one of the most fun ways to catch up, set the world to rights and tell each other how great you're looking.
By the seaside
Oh we do like to be beside the seaside, especially on a bank holiday. A spot of paddling, maybe some fish and chips, there's no better way to spend a bonus day off. Until it begins to rain that is. Once the heavens open you have two options. Take cover under a trusty umbrella and hope that the refreshing sea 'breeze' doesn't whisk it away, or grab some shelter in a luxurious beachside spa like The Grand Hotel, Eastbourne. Life's a beach, treat yourself this bank holiday.