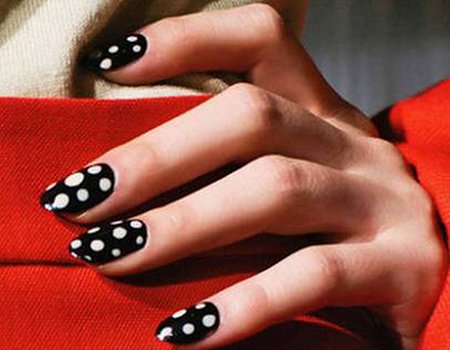 The leaves are falling and the weather is on the turn and here at Wahanda (experts in health, beauty and weather apparently) we reckon we've only got another few weeks before it's full-on hats and gloves weather. While that's good news for frozen fingers and wind-swept hair, it's not so good news for our beautifully manicured nails.
Dedicated to beauty as always, we're determined to make the most of our mani before winter forces us to hide it away in gloves. We've been researching the hottest autumn looks for nails and put together our favourites to show off while we can. We feel a new season manicure coming on...
Dark romance
The glammest (and easiest) way to do this season's gothic beauty trend is with a set of wickedly dark nails. Dark nails always look elegant, and the right shades go with any look. Look out for devilish shades of deep purple, navy blue and emerald green to really nail it. We love Rimmel's 60 Seconds Nail Polish in Deliciously Dark.
Metallics
Metallic nails might conjure up a few best-forgotten images of nineties girlbands, but after a summer filled with gold, silver and bronze they are all the rage again this autumn. Just ask Jean Paul Gautier who completed his autumn/winter 2012 collection with short, silver fingernails. A great, festive look for the upcoming party season. Topshop have so many gorgeous metallic shades this season, we couldn't possibly pick a favourite. But just for you, we tried; we think it would be the stunning Moonshine.
Khaki & nude
Thought khakis were just for summer? Think again. Tap into this season's military trend by painting your nails khaki green or nude. If you're feeling particularly adventurous, go wild and add a little safari to your khaki with the green and gold, crocodile leather effect set from Dior's autumn Golden Jungle collection.
Nail art
We love a bit of nail art here at Wahanda, so we were delighted to see some easy nail art trends this season. Kate Spade knew polka dots were set to be big when she decorated her models' nails with black and white spots (pictured) and it didn't take long for us to copy it here at Wahanda HQ. But our favourite nail-art look came from Louise Gray who updated the classic French manicure by painting nails white and finishing with black tips. Get yourself a nail-art pen like this one from Model's Own for an on-trend look that is trés chic.
Cobalt blue
Bright blue is everywhere this season and that includes nails. Beyoncé started the trend when she first stepped out with baby Blue Ivy, with - you guessed it - bright blue fingernails, and we've been obsessed ever since. There are loads of different blue hues on the high street at the moment but our favourite has to be Baker Street by Nails Inc. Remember, the brighter the better with this look; too dull a shade might leave you looking a little frost-bitten.
Image from hypediary.wordpress.com