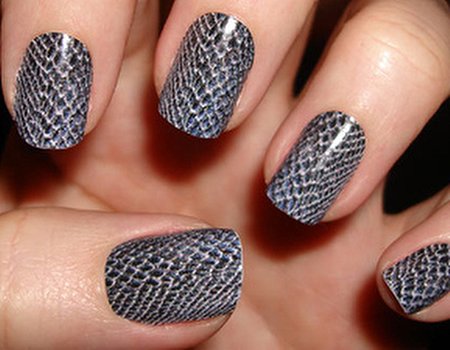 Happy Chinese New Year everybody, and welcome to the year of the snake. Myths and legends might have given it a bad name, but according to the Chinese zodiac, this maligned reptile isn't so bad. People born in the year of the snake are believed to be charming, elegant, mysterious, cunning, passionate, proud and good at business. What's more, they can expect to experience some changes in the next 12 months as Chinese tradition says big things will happen to you in the year of your sign.
"What about the rest of us?" we hear you cry. Well regardless of your zodiac sign, Chinese New Year is said to be the ideal time to de-clutter your life and clear out the old to make room for the new. If you happen to clear out any beauty products, we've got a few new ones you could try. Take a look at our list of simply, super, sssnake inspired treatments. Fancy smoother wrinkles, softer skin or sssupple joints this year? Read on…
Snakeskin manicure
Ever since the world's Olympians were seen sporting national flags on their fingertips last summer, nail art has been the hottest way to join in any celebration. The snakeskin manicure involves small pieces of authentic snakeskin (shed naturally - so no snakes were harmed in the making of this trend) being sanitised, cut to size, embedded into Bio Sculpture Gel and applied to nails. Once the technician has finished applying the design to your fingers or toes, it is sealed with a flexible finishing gel layer that lasts for up to two weeks on your fingers, or eight weeks on your toes – which is good news considering the process can take up to two hours.
Snake yoga
If you're already something of a yoga bunny, you'll be familiar with poses like the snake, the serpent and the cobra. Well Snake yoga, takes things one step (or slither) further. Snake yoga, or Kumara Serpent Healing, was created by Kwali Kumara, who believes that snakes have a powerful healing energy. Classes are conducted in front of a basket filled with snakes and begin with a physical section followed by relaxation and meditation. Once thoroughly relaxed, participants handle the snakes – often while performing yoga poses – in a bid to face fears and deepen the connection with the natural world. We think we'll stick to Sun Salutations thank you very much.
Mac range
It seems we're not the only ones in the beauty world embracing the Chinese New Year. Masters of the capsule collection, Mac Cosmetics have just launched a new one called…Year of the Snake. Inspired by the snake's apparent love of luxury, this collection is vibrant, sensual and incredibly chic. Year of the Snake features four eye-shadows, pigments and lipsticks in a range of rich, shimmering shades, as well as Zoom Lash mascara, Powerpoint eye pencil and the gorgeous pearly peach Year of the Snake Beauty Powder. Each piece comes dressed in exotic packaging and we don't think we're being unreasonable when we say we want it all.
Snake venom
If you've ever been tempted by Botox, but put off by the needles, mother nature – and a few expert scientists – may have the answer: snake venom. Over the past few years, skincare brands like Planet Skincare and Rodial have been using synthesised viper venom to stun the skin the same way a snake bite (or syringe full of 'Botulinum toxin') would. It is believed the amino acids in the venom block nerve signals that tell muscles to contract, which helps to stop wrinkles forming. The effects of these creams are not as dramatic as Botox, meaning they do not affect facial movement, but do have to be re-applied to the skin regularly. Perfect for anyone with a fear of needles (or wrinkles).
Snake massage
Ophidiophobes look away now (that's people afraid of snakes by the way; you learn something every day with Wahanda). The snake massage is not the name given to some new-fangled technique to ease tension and untie knots. It's exactly what you think it is: a massage performed by snakes. The treatment consists of non-venomous snakes writhing on a client's body to massage aching muscles and joints. Larger snakes are used for a deeper massage, while smaller snakes have a, er, 'lighter touch' and can be used on the face and scalp. Ara Barak, owner of Israel's Barak's Snake Spa, believes snakes have therapeutic qualities and that people feel calmed after being in contact with them. We think we might find a bunny massage more soothing. When's the year of the rabbit?
Photo source: JustBeMagazine.com