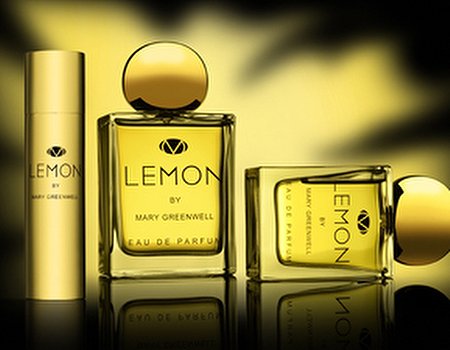 With a career that has taken her across the globe to work with some of the most beautiful faces, renowned designers and esteemed photographers, Mary Greenwell has made a name for herself as one of the most sought after and respected makeup artists in the world.
After years of creating beauty looks for catwalks and magazines (sparking beauty trends across the globe), in 2010 Mary turned her creative talents to something different when she launched her first perfume. Working with fourth generation perfumer Francois Robert, Mary created PLUM, a chic and classic scent with a modern, fruity twist that was quickly embraced by the beauty world.
Following the success of PLUM, this year sees Mary reunite with Robert to launch her second perfume: LEMON. Inspired by holidays in the Mediterranean, this new scent captures the sun-baked earth, timeless beauty, and elegant, effortless living of places like Italy and Greece.
With zesty top-notes including lemon, mandarin and bergamot, blended with floral middle heart-notes and a woody base, LEMON is immediately refreshing and modern, yet classically feminine. The scent lingers beautifully on skin and clothes, transforming gently throughout the day but never fading away. Like its sister PLUM, LEMON is dressed in a chic, square bottle topped with a 22 carat gold plated cap and gloriously bright packaging.
Wahanda caught up with Mary Greenwell earlier this week to talk about her impressive career, memories of travelling and love of perfume.
LEMON is your second perfume, what was it that made you want to create another fragrance and can you briefly talk us through the journey from PLUM to LEMON?
If you're lucky enough to start a brand - which I would love this to grow into (the 'Mary Greenwell' brand) - one is not enough. You want to extend, to go on. It's also wonderful creating fragrances and creating things, so of course one's creativity doesn't stop with one; you move forward and want to create another and then another and another.
I'm doing this slowly; I've seen people bring out 20 scents in one go. That's wonderful, but I love the idea of doing it gently and getting people very hooked onto the brand by just the sweetness of going slow.
We've read that LEMON was inspired by holidays in Italy, is this true?
Absolutely, although it's also Greece, the Balearic islands of Spain and Morocco. It's really just my travels through the Mediterranean, and the feeling of holidays, joy, and beauty - beautiful orchards of lemon. It's a feeling as much as a memory. A feeling drawn from those memories, but not just one place.
Once you have the inspiration, how do you bring it to life, and how does the process of making a perfume come to an end?
The process starts with an idea and for me it was fruit notes. Flower notes are fabulous, but people have done that a lot. Fruit notes to me are more contemporary. You then take your idea to the person we call in the industry 'the nose'. In my case it was the wonderful, world-renowned Francois Robert, who I simply adore.
There's a lot of back and forth, back and forth where you're kind of like: "Yes that's great, but can we tweak that and that? Let's take out this and put in more of this". For anyone to imagine what I want they'd have to be in my mind - not even I know! The nose can find things and pick ingredients that I wouldn't know myself. Then I smell the submissions and think "That's wonderful, let's go with that" or "I love it, but can we just tweak...?" So you just submit, submit, submit until both parties go: "You know what? It's great. We cannot do better than this."
There's always a point when you have to stop. Just like a writer drafting a book, you can edit and edit and what are you left with? You lose the book in the end. So I have found that when creating a fragrance, you can go on and on until you lose an essence that actually you were really enjoying. Then suddenly that 'thing' is gone because it's been taken out, and you have to go back four or five trials and start again from there. There's a really good lesson to learn in knowing when to say stop.
Now, I think LEMON's 100% perfect. It's so right on. It's zesty it's fruity, but at the same time incredibly sophisticated, incredibly deep and very sexy with these wonderful base notes.
Do you think the popularity of modern fruity scents means perfume is moving away from more traditional scents?
No, I don't think perfume's moving away from anything traditional. I think perfume is what it is. It's just that things come and go. It's not a move away from tradition; the classics will always be wonderful. What is happening right now is very interesting and I think fruit notes are very, very important at the moment but I don't think anything moves away. I think things come forward then they fall back, they shift. It's all movements and shifts, like waves.
A lot of celebrities are trying their hand at perfume making at the moment, what do you think of the whole trend?
I think it's great. Scents are divine, everyone loves them and if celebrities feel they want to create them I think it's fantastic. If someone wants to smell like someone who they know and love, then why not?
Who do you imagine wearing LEMON?
Everyone. Cate Blanchett loves it and wears it. Everyone I give it to just loves it. It's such an amazing scent and it really works on everyone.
You've worked with a lot of incredible and inspiring names throughout your career. Is there anyone who sticks out as a real inspiration?
I've worked with some of the most amazing photographers. Avedon was a true inspiration to stand beside and work with. Really it's more the people who have had a lasting effect on the industry who have impressed me, like Coco Chanel.
You've lived in a lot of glamorous places and, we presume, have many wonderful memories. Do you already have an inkling of what might inspire the next perfume?
Yes I do… but it's a secret!
You worked with Romeo Gigli in the 1980s and created for his show the fresh-faced, natural look that's still so popular today. Can you give us a few fresh faced tips?
The most important thing is wearing as little base as possible, that will keep you looking updated and modern. If you have a heavy base you'll end up looking tired and old. Full stop.
If you have skin that needs foundation I'm not suggesting you stop wearing it, just keep it as light as possible - that's the best tip I can give anybody. A dark smoky eye and bright red lip, that's all fabulous, but keep the skin as clear as possible. You will always look hip and modern then.
How would you sum up LEMON?
Zesty, sophisticated, glamorous, fresh and sexy.
LEMON is based on a cologne. Even though it's fresh, the bottom notes - the wood notes - mean it lasts much longer than simple eau de colognes. It also has a lovely earthy smell. Even though it is a citrus fragrance, it has the depth of the sea, if that makes sense? That deep, ocean smell you get when you dive right into it - an earthy, warm, wonderful pungent smell of deliciousness. Somehow, LEMON goes the distance between the very top of the trees to the bottom of the ocean.
LEMON is now available on www.marygreenwell.com and QVC and comes in the following sizes:
Eau de Parfum (100ml) £90, (50ml) £60
Purse Spray (7.5ml) £30
To find out more about Mary Greenwell, check out her Wahanda profile page or visit marygreenwell.com