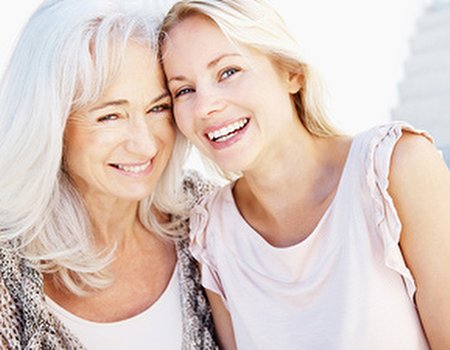 When we were younger we remember asking our parents when's children's day and being thoroughly disappointed with the reply 'every day is children's day'. Now we're a little older we've come to appreciate just how much our parents do for us so as we approach one of the few days of the year that is devoted to parents rather than children we've been looking for ways we can really say thank you this Mother's Day.
Stuck for ideas we turned to a professional for guidance. Fortunately, beauty expert and mother of five children, Liz Earle was able to offer a solution with her Mother's Day Tips for any budget. If you're still looking for that perfect gift grab a pen and paper and take note of these…
Home-made Beauty-Boost Truffles
Remember when home-made gifts meant papier-mache, glitter and coat hangers? Well not any more. This Mother's Day try making your mum something she'll actually like - and won't have to clean up later – like Liz Earle's Beauty-boost Truffles.
"These choc-free truffles are the packed with omega-goodness from nuts and seeds as well as healthy oils to help make skin strong and clear. Best of all, they are very easy to make and taste delicious!"
You will need:
50g each of dates, dried apricots and sunflower seeds
100g raisins
100g porridge oats
50g wheatgerm or oatmeal
20g linseeds
Juice and grated zest of 1 lemon
2 tablespoons cold-pressed rapeseed or sunflower oil
Method:
Simply whizz all of the ingredients in a food processor until they form a firm dough ball.
Roll into individual truffle-sized balls and put into the fridge to 'set'.
Place in cellophane bags tied with ribbon or pretty tissue-lined boxes for the perfect Mother's Day treat.
Keep cool and they'll stay fresh for several weeks.
Pick-me-up Tonics
We used to hate it when our mum made us take vitamins, but after a certain age we realised that these mini health-boosters actually make very thoughtful gifts. Earle recommends putting a selection of pick-me-up vitamins, teas and tonics together in a basket is a great way to show a busy mum you care.
"Putting together a small basket is a thoughtful way of reviving a busy mum with lasting benefits. B-Complex vitamins are some of the best stress-busters as they support the central nervous system and can help reduce tension and irritability. Choose a formula that contains all the B's, including B1, 2, 3, 5, 6, 7, 9 and 12.
"Floradix tonic is one of my all-time favourites as it is rich in absorbable organic iron to reduce tiredness. It's ideal deal for anyone feeling run-down or in need of an energy boost. Choose the yeast and gluten-free version and keep in the fridge once opened.
"Ginseng tea is a traditional energy tonic and recommended by herbalists to increase alertness and mental agility. Some studies suggest it may also boost the immune system and improve digestion. Red (Panax) ginseng is thought to have more health benefits than the white variety."
Message in a bottle
What better way to send the message you love her than a bottle of pure essential oil like calming lavender, uplifting Neroli and fragrant rose-scented geranium. Earle believes "Bottles of pure essential oil are very versatile beautifiers that improve mood and wellbeing". Here's how to use them:
Sprinkle a few drops of pure lavender oil onto a pillow to encourage a good night's sleep.
Add a drop each of neroli and rose-scented geranium to a basin of water to scent the hands after washing.
Make a reviving massage oil blend by mixing 10 drops lavender, 6 drops neroli and 4 drops rose-scented geranium to 50ml cold-pressed grapeseed or almond oil.
Add 3 drops of each to a pre-run warm bath (don't sprinkle under the hot tap as this destroys the scents), lie back and soak all stresses away.
Essential oils are available from good chemists and health food shops.