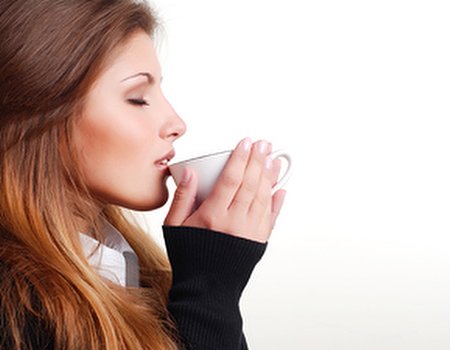 This time of year there's no better pick me up than a warm cup of something soothing. For most of us it's a tea or coffee, maybe even the odd hot chocolate or mulled wine as we get closer to festive season - but for some of us super healthy types it's a steaming cup of herbal tea.
Even if you're not a herbal tea drinker, chances are you've heard of some of the healing/medicinal properties of particular teas. But with hundreds of varieties, each claiming to do something important for your body or mind, how do we choose what's right for us? Well we've done a bit of research and narrowed it down to five herbal teas guaranteed (guaran-tea'd, if you will) to benefit us all this winter.
Rooibos tea
Coming from the roots and leaves of the South African rooibos plant, Rooibos tea is a naturally caffeine free black tea. A great alternative to tea or coffee, this tea is packed full of minerals like iron, potassium, calcium, zinc and magnesium, as well as quercetin - known to increase capillary strength - and anti-ageing, immune boosting anti–oxidants. Believed to have a number of health benefits Rooibos tea is prescribed for nerves, digestive problems, and insomnia. Have it with a dash of milk, or a slice of lemon and drop of honey for a more traditional flavour.
Lemon Balm
Sometimes referred to as the 'herb of good cheer', lemon balm is a lesser-known member of the mint family, and it's one we could all use a bit of during darker months. Like it's minty brothers and sisters, lemon balm is known for its calming properties and is used to treat nerves, anxiety, headaches and even mild depression (hence the cheery nickname). This tea also boasts antibacterial and antiviral properties and can be used to bring down a fever and treat viruses such as cold sores and mumps. Best of all it's a natural remedy for menstrual cramps – now there's something to smile about.
Chamomile
We first heard about the soothing benefits of chamomile tea when Peter Rabbit's mother gave it to him after eating a few too many vegetables, but it would seem this tea pre-dates our childhood reading. Believed by the ancient Egyptians to be a universal remedy, chamomile has a long history of uses from battling illness to healing wounds and relieving anxiety. Most commonly used to settle the stomach, chamomile is soothing and caffeine free making it the perfect choice for a healthy nightcap. Sweet dreams, everyone.
Yerba Mate
After reading about this wonder-tea, we have concluded that the English word 'mate' must have South American origins as when it comes to keeping healthy this South American tea really is your best mate – sorry. Discovered by the Guarani Indians of South America, Yerba Mate is known to boost immunity, cleanse blood, calm the nervous system, delay signs of ageing, fight fatigue, stimulate the mind, control appetite, reduce stress and even restore youthful hair colour. Wow. The only thing this tea doesn't have going for it is taste. When drunk on its own Mate has a rather vegetal and grassy flavour but 'flavoured mate' (blended with peppermint or citrus) is a great alternative.
Dandelion
If at some point in your childhood you came across the popular belief that dandelions lead to bed-wetting you might, understandably, have been put off these little yellow flowers. Well we've done some research and it turns out, that when boiled as tea, dandelion leaves have a great number of effects on the body, but rest assured, bed-wetting is not one of them. Dandelions leaves contain iron, calcium, potassium, phosphorus, magnesium and zinc and are believed to help with gall stones, liver function, and an inflamed bile duct. This tea contains more vitamins than we can count including vitamin E - making it a popular treatment for skin complaints. But most importantly for this time of year, dandelion tea contains a large amount of beta-carotene, believed to help us see in dim light - making it that little bit easier to leave the house on dark mornings.