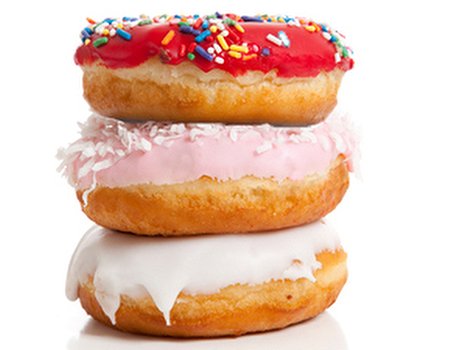 If you indulged in Tuesday's tradition of clearing out your cupboards, frying the contents and eating until the 'Pancake Sweats' set in, there's a chance you're now pondering part two of this tradition: 40 days of self restraint. Like all good things in life, Pancake Day comes at a price, namely the expectation that you will now give up one of your favourite things for the next 40 days.
Here at Wahanda we like chocolate, we like treats and we like the odd glass of wine. However, in a health conscious world in which we're all constantly trying to improve ourselves, we can't help but think that the tradition of giving up a vice might not be a bad idea. So, if you've been waiting for the right time to break a bad habit or lose a couple of pounds, maybe it's arrived. Need help getting started? We've put together a list of five foods that, although delicious, we know we should eat less of. Take a look for a little Lenten inspiration. It's time to cut the crêpe people…
Salt
We all know too much salt is bad for us, yet most of us choose to keep it on the table and add it to perfectly well-seasoned meals without even thinking about it. Well now is the time to start thinking. Too much sodium overworks the kidneys (which keep our sodium levels balanced) and can lead to chronic kidney disease. It also puts pressure on your heart, leading to high blood pressure, damage to your circulatory system and one day, maybe heart failure. Eek. Avoid shocking your taste buds by gradually reducing the amount of salt you put into meals over the next 40 days or switching to a low sodium substitute. Remove salt from the dinner table and try getting a bit more adventurous with herbs and spices.
Fast food and takeaways
Whether you're hoping save pounds from your purse or lose pounds from your waist, giving up fast food and takeaways can help with both. Indulging in these foods means consuming more fat, salt (read above) and calories than you realise. Did you know one take away carton of Chicken Tikka Masala contains roughly 1000 calories and 40 grams of fat? Us neither, but now we do we're going to think twice before picking up that takeaway menu. Giving up fast food and takeaways for 40 days doesn't need to effect your daily life too much, but it's a great healthy challenge to set yourself and might even improve your cooking skills. Jamie Oliver eat your heart out.
Chocolate and sweets
With Valentine's Day here and adverts for delicious chocolate eggs everywhere we look, giving up chocolate at this time of year can be tough. If cold turkey isn't for you, why not try satisfying your sweet tooth over the next 40 days with the odd packet of gummy sweets. Although relatively high in sugar, gummy sweets contain little to no fat so, providing you keep brushing your teeth twice a day, they make a good alternative to chocolate. If your fondness for chocolate is just too strong to shake, you could always try switching to dark chocolate for the 40 days. It might taste a little bitter in comparison, but dark chocolate contains the same mood boosting serotonin and healthy antioxidants as the milkier variety. Someone should probably tell the Easter Bunny.
Caffeine
There's nothing like a big cup of Joe to get you out of bed on a cold morning or see you through a long afternoon in the office. By Joe we, of course, mean coffee and by coffee we mean all forms of caffeine. Caffeine is great when you need a pick me up, but too much can lead to dehydration, high blood pressure, an irregular heartbeat and anxiety. Whether you're a tea, coffee or fizzy drink fan, why not try switching to decaf for the duration of Lent? If you're used to consuming a lot of caffeine you might experience headaches for a few days while your body adjusts, but following that you can expect to see benefits like your skin clearing up, improved natural energy levels, better quality sleep and fewer cravings for unhealthy food. Sounds like a winner to us.
Alcohol
Thanks to January's sponsored Dryathlon, many of you will already be familiar with the health (and beauty) benefits of giving up or cutting down alcohol. The odd glass of wine with dinner or cocktail with friends is relaxing, sociable and enjoyable. However, when we drink more than advised (14 units per week and no more than three per day) alcohol can take its toll on our skin, mood, waistline, brain cells and friendships. 40 days without alcohol (or simply less alcohol) can help clear your mind, skin and conscience. If you don't fancy giving up completely - and there's nothing wrong with that – try limiting your intake over the next few weeks by imposing a couple of rules like only drinking with dinner, or only on a Friday. Cheers!