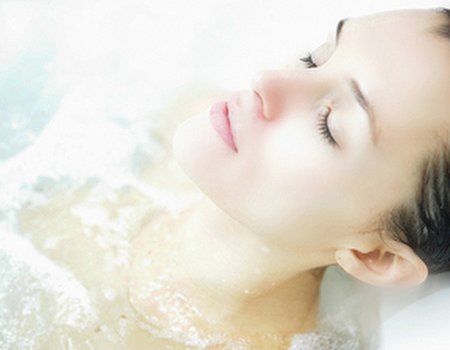 It's a firm belief of ours here at Wahanda that there is nothing better than a nice, relaxing spa treatment. In an ideal world we'd have one a week - well, in an ideal world we'd have one every day – but in real life it's not always possible.
Work, budgets, socialising; some weeks there's no end to factors curbing our urge to indulge, and these are usually the weeks we'd most benefit from a deep tissue massage or two. So what do you do when you simply can't get to the spa? You bring the spa to you, transforming your bathroom into your very own haven of tranquility and beauty. Here's how...
Music
OK, it's a little cheesy but a key component in any relaxing spa is a soothing (often animal related) soundtrack. Gentle music is a great way to set the scene in your bathroom spa. You might not want to invest in a 'sounds of the rainforest' CD – and we don't really blame you – so have a think about all the kinds of music you enjoy and what relaxes you then play it softly so you're not distracted by lyrics. You could even try a meditation tape; we love the Meditainment ones. Do whatever you can to block outside noise – a strongly worded 'Do not disturb' sign on the bathroom door usually works a treat.
Candles
Now you've sorted the music it's time to think about atmosphere. Most bathrooms are pretty well lit which is great for a refreshing morning shower, but not so great when it comes to me-time. Candles are a great way to overcome this. Scatter tealights (aromatherapy if possible) around the room and switch off the overhead light. Be careful where you place the candles. In the movies they're always positioned around the bath but many bath oils are actually very flammable so a precariously placed candle can be dangerous and far from relaxing.
Aromatherapy bath
The pièce de résistance of any bathroom-come-spa is, of course, the bath. Make yours as luxurious as possible, filling it with hot (not scalding) water to soothe muscles and pour in a generous amount of an aromatherapy bath oil. We love Aromatherapy Associates miniature bath and shower oil collection which contains nine different natural oils for your every need. Lie back and let go while the oils use their healing properties all over the body - easing muscles, improving circulation and helping a range of skin concerns from acne to ageing.
Face mask
Skincare experts advise that we incorporate a weekly face-mask into our beauty regime. Easier said than done. Most face masks require that we remove any make up, take a few minutes to apply, ten to fifteen minutes (of looking like Shrek's long-lost sister) to dry and another few minutes to remove. That can add up to about half an hour of being very still and hoping not to be seen by anyone and, therefore, can be difficult to schedule once a week. Your bathroom spa session provides a great opportunity to use that face-mask you bought with good intentions. Apply before getting in the bath, then sink back and let it do its stuff.
Bodybrushing
When you've had enough relaxation and your fingers are beginning to prune it's time for a bit of spa-quality microdermabrasion. What's that you say? You can't possibly perform as advanced a treatment as microdermabrasion on yourself? Actually, you can with the Crystal Peel Microdermabrasion Exfoliating Soap Body Bar. Simply wet the soap and massage it over your arms, legs, stomach etc. The Body Bar uses fine corundum crystals to polish away dull, dry skin while stimulating the production of collagen improving elasticity and cellulite. Beats soap on a rope any day.