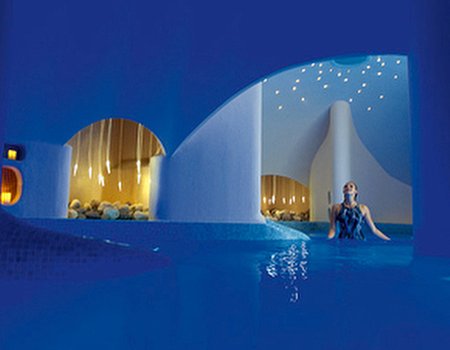 After a recent taster of summer sunshine, here at Wahanda we're on the look out for the perfect watering hole to while away the summer months. No, we're not talking about the pub – that's no place to catch a tan. We mean luxury swimming pools where we can keep cool, relax and channel that 'holiday' feeling – without the jet lag. Fancy a dip? Grab your Speedos, your towel and leave your passport at home because we've found rounded up the top five gorgeous pools right here on our doorstep. Last one in's a rotten egg…
Carrick Club and Spa at Cameron House
Forget your run of the mill hydrotherapy or relaxation pools (although this place has them too) the Carrick Club and Spa at Cameron House has a rooftop infinity pool that blows all others out of the water – pardon the pun. Situated in Dunbartonshire in Glasgow, the Carrick's stunning pool has one of the most breathtaking natural views in the UK, overlooking Loch Lomond and its bonnie, bonnie banks.
Chuan Spa at the Langham
Worlds away from Loch Lomond (well roughly 400 miles), Chuan Spa at the Langham is located in one of the busiest parts of London, but somehow maintains a similar atmosphere of quiet. Once the setting of a banking vault, the indoor vitality pool is the height of luxury. Situated underneath a spectacular chandelier and surrounded by heated tiled loungers, you won't find a more decadent dip this summer. Slip on your finest bikini and remember no running, bombing or heavy petting...
The Malvern Spa
Situated in Worcestershire in the heart of England, The Malvern Spa offers guests a host of first class spa and wellness facilities including heat and water rooms, an ice fountain, and one unique feature that sets this spa apart from others: a 20-metre, heated indoor-outdoor pool. Stretching from inside the spa out into the open air, the pool gives guests the option to bathe in style and comfort, come rain or shine - which, lets be honest, might be useful this summer.
Sundari Spa, Bovey Castle
Set within Devon's picturesque Dartmoor National Park, Bovey Castle is a traditional English country estate which dates back to the 17th century. Inside guests will find the Sundari Spa which specialises in Ayurverdic treatments and - fun fact - was created by supermodel Christy Turlington. Venture to the old orangery and you will find a stunning Art Deco swimming pool that looks out onto the River Bovey and miles of Dartmoor National Park, offering some of the most remarkable views of unspoiled English countryside. Lovely.
Ragdale Hall
Nestled in the heart of the rolling Leicestershire countryside, the (not-so) new Ragdale Hall (pictured) was built in 1785 but later refurbished to resemble a Victorian castle. These days Ragdale is home to a multi million pound thermal spa where guests can enjoy a range of state of the art facilities including a candlelit pool set within a 'mosaic cavern'. With lapping water at a constant of 34ºC and a starlit ceiling, guests can imagine they are a million miles away, floating in warm seas under the night skies. Come on, water you waiting for?