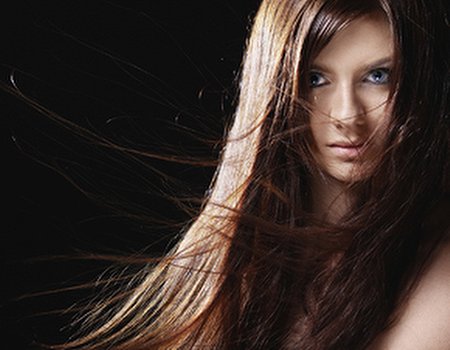 For those of you toying with the idea of a seasonal hair update that will see you through the summer and look just as chic in autumn, we've got a suggestion that never goes out of style: healthy hair. That's right, from flip-flops to woolly hats; shiny happy hair goes with everything.
With styling products, central heating and the occasional burst of sunshine drying out our locks, keeping things healthy can be hard – but not impossible. If your locks are feeling less than lustrous (try saying that three times) don't fret, we've scoured the world (of health and beauty) for the best tips, tricks and treatments to help…
Diet
How you look on the outside depends very much on what's going on inside, so a little healthy eating can go a long way. Your hair is almost entirely made from protein so if it's looking a little dull try upping your intake of meat, eggs and lentils. Speaking of lentils, these little pulses are also full of zinc (too little of which can lead to hair loss) and biotin (necessary for cell growth and found in many hair and skin products) so it's worth stocking up. Walnuts, yoghurt, blueberries and oily fish can also help boost vitamins E, D, C and omega-3 acids respectively – all of which help promote healthy hair growth.
Supplements
If oily fish don't float your boat and you can't tell your spinach from your rocket, you might be better off trying a supplement. Multivitamins are a great way to make sure you're getting everything you (and your hair) need. Remember to wash them down with plenty of water – also important for healthy hair – and cut down on bad habits like smoking for optimum effect.
Trims & treatments
As any stubborn children with a particular dislike for hair dressers will have been told by their parents, 'cutting your hair actually helps it grow longer'. Guess what kids, it's sort of true. Regular trims won't actually affect the follicle (which decides on the rate of growth) but they will get rid of split ends and prevent breakages with can make hair look shorter and thinner. If you're growing your hair aim to trim it every six to eight weeks to keep it in tip-top condition. While you're with your hairdresser, ask about conditioning treatments on offer in the salon to nourish hair and give it a shiny boost.
Home remedies
We realise we're moving into 'old wives' territory here, but there are plenty of home remedies that women across the world (and our gran) swear by including washing your hair with bananas, vinegar and even mayonnaise. If you fancy trying a spot of DIY hair care, eggs are said to be a great way to restore some of that all important protein. Try whisking together two eggs and applying to dry hair. Leave on for about ten minutes then rinse out with cool water – too hot and you might have an omelet situation on your hands…and your head.
Avoid over-styling
If you find yourself having to straighten, curl or blow-dry your hair for hours every day perhaps it's time to think about a new look that won't require as much maintenance. Book a hair consultation and speak to a professional about the best styles for your hair type and face shape. Going for the chop can cut drying time in half limiting how long your hair is exposed to damaging heat. Adding a few layers to thin hair will boost volume without having to rely on hair spray and curling tongs, and adding a face-flattering fringe can make it easier to wear hair up giving it a break from styling altogether.
Rapunzel eat your heart out.