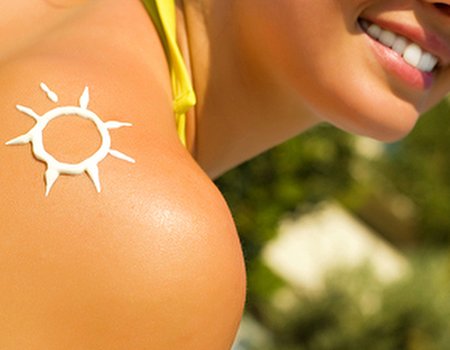 It is a cruel fact of life that all good things have their downsides: sinfully calorific (although heavenly tasting) chocolate cake, handsome bad boys who break your heart, and glorious sunshine that might feel like just what your skin needs, but, in the long-run, isn't doing it any good.
We can't change the fat content of chocolate or the fact that some of us will get burned by handsome heartbreakers (although we're sure you're too good for him any way). What we can do is stop you from getting burned by the damaging effects of the sun – see what we did there? 6th-12th May is Sun Awareness Week and having finally enjoyed a bit of sunshine recently, it's the perfect time to talk sun cream. Here are a few of our favourites…
Best for anti-ageing
Institut Esthederm Bronz Repair Anti-Wrinkle Tanning Cream is an anti-wrinkle tanning treatment cream for the face that works during even extreme sun exposure to allow skin to develop a deep tan without the wrinkles. The wonder cream works by encouraging melanin (which helps you tan rather than burn) to come to the surface quickly, preventing sunburn and skin damage, while still allowing you to catch some rays.
Best for emergencies
Lip balm, tissues, hand cream. Our handbags are full of all kinds of 'emergency' supplies but at this time of year nothing is more important than a bit of SPF. The Eight Hour Cream Targeted Sun Defense Stick (SPF 50) takes all the elements we love about Elizabeth Arden's famous Eight Hour Cream and infuses them with intense sun protection. Best of all it's hand-bag sized and easy to apply the minute you feel things hotting up.
Best for organic souls
From detox tips to the beautifying benefits of organic eggs, when it come to health and beauty Liz Earle knows her stuff. No surprises then that we love her Mineral Sun Cream. This natural alternative to chemical sunscreens is made from shea butter and natural-source Vitamin E. The formula is non-greasy, light and unfragranced making it a sensible choice for sensitive skin.
Best for water babies
Piz Buin Wet Skin is a transparent Sun Spray that offers instant sun protection on wet or dry skin. New technology allows the spray to cut through water on the skin (rather than mixing with it and sliding off) meaning no more waiting to dry off from the pool before reapplying sun protection. According to Consultant Dermatologist Dr Sue Mayou this is one of the prime times for burning:
"It's vital not to leave skin unprotected whilst you wait to dry as you risk leaving it exposed to the sun. Ensure you apply as soon as you emerge to ensure your skin is kept protected."
Best for difficult skin
Brush on Block is a SPF 30 powder that can be worn over makeup. This non-greasy, non-sticky sun block, created to encourage us to wear sun protection every day, offers instant broad-spectrum protection. The powder block features naturally-occurring active mineral ingredients like green tea leaf, safflower seed oil and chamomile that sit on top of your skin and reflect the sun's rays. The natural ingredients and fact it is not absorbed by the skin makes Brush On Block less likely to irritate it or clog pores, making it a great option for sensitive souls and those of us who are prone to break-outs. Available exclusively from John Bell & Croyden.
For more information about Sun Awareness Week see [www.bad.org.uk http://www.bad.org.uk/site/715/default.aspx].