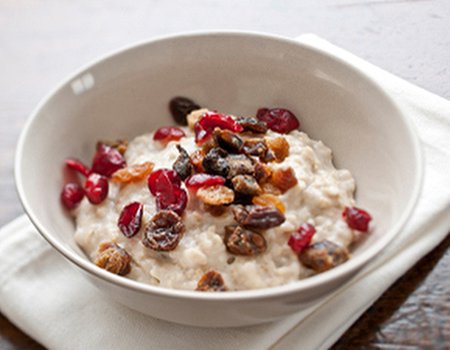 It's been a long old month for those of us struggling with well-intentioned New Year's Resolutions. All that Christmas indulgence seems like one distant, calorific memory and after four abstemious weeks of saying no to chocolate biscuits and glasses of wine some of you might be beginning to struggle – we know we are.
Fortunately for us all there are some healthy living experts out there to offer simple and enjoyable ways to make sure we don't stray from our healthy resolutions before the month is up. We've tracked down a couple and put together this little guide on what to eat, drink and do over the next few days to keep from ruining our hard work. One last push everyone, we're almost there.
What to eat
Liz Earle, beauty and wellness expert and creator of Liz Earle Naturally Active Skincare, says healthy habits begin with breakfast:
"Refined sugars, found in most breakfast cereals, are the first thing I give up if I'm embarking on a new year spring-clean and cutting them out gives me far more sustained energy throughout the day."
Earle suggests starting cold winter mornings with "a bowl of porridge made with water and sweetened with honey, complete with a sprinkling of sunflower seeds", "chopped fruit and berries with a dollop of natural yoghurt" or "a protein-packed organic boiled egg that also contains useful vitamins A, B-complex and E, as well as minerals such as zinc, served up with toasted wholemeal soldiers and a glass of orange juice."
When it comes to lunch, Earle is all about filling soups made up of food and water that stay in a homogenised state (meaning the mixture stays together) as they pass through our intestines. Earle explains:
"The increased volume of water and semi-solid food then stays in our system for longer than if we were eating food and drinking liquid separately, so we feel fuller for longer. According to researchers at Nottingham University, this means we are much less likely to over-eat."
Sounds like a winner.
What to drink
Alcohol, caffeine, bubbles – when it comes to this time of year most of us are so worried about what we shouldn't drink that we forget to think about what we should. Nutrition expert at Go Coco, Ross Currie, suggests we stick to the following over the next few days:
Tea: Tea is a natural antioxidant, which protects your body from free radicals, pollutants and ageing. Go for green, peppermint or ginger tea to increase metabolism and aid digestion and the absorption of food.
Coconut water: Go Coco coconut water comes straight from the young, green coconuts of Thailand and is full of natural Isotonic properties and electrolytes - great for rehydrating. It is also packed with vitamins and minerals, fantastic for a natural energy boost whilst being low calorie.
Pineapple juice: Pineapples contain many vitamins and enzymes that benefit a detox, including Bromelain, an anti-inflammatory that encourages healthy digestion by helping the body break down proteins, as well as boosting your metabolism by helping your body convert carbohydrates into energy.
Lemon water: Lemon juice is a great source of citric acid, calcium, potassium, magnesium and phosphorous. Drinking it with water (hot or cold) will benefit your detox by assisting your digestion, stimulating the liver and cleansing the blood stream.
Fresh Carrot Juice: As well as containing Vitamin C and A, carrot juice also contains carotenes which are a great anti-oxidant. Carrot juice is also a diuretic and can help to reduce water retention, plus it's very low in calories.
What to do
If all that healthy eating and drinking just isn't enough for you, you might want to try an at home 'liver wrap'. Liz Earle swears by it as "a simple but highly effective way to stimulate the detoxification process in the liver." All you need is a hot water bottle, a flannel and a small fluffy towel. Earle instructs:
"Wearing just a dressing gown, gather everything together and lie down somewhere comfortable. Start by applying the cold damp flannel to the right-hand side of your body just beneath the ribcage to cover the liver area. The coldness felt by the skin briefly lowers the temperature of the tissues beneath and your body's reflexes respond by increasing circulation in that area.
"Next, place a really warm hot water bottle on top of the damp flannel to retain moisture and stimulate the autonomic nervous system. This in turn boosts blood flow to the liver and supports its detoxification activity. Cover the hot water bottle with a soft towel and rest on a sofa or go to bed."
Earle recommends trying this at bedtime so you can fall asleep with the hot water bottle in place or otherwise, simply put your feet up and rest for 30 minutes –now that's our kind of detox. Good luck everyone.