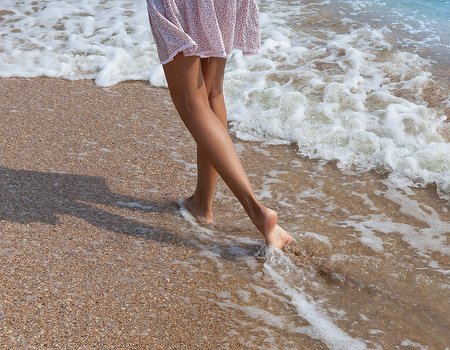 With summer on its way (fingers crossed) the time is upon us to whip off those wintry tights and jeans and start thinking about hair removal. Research has shown us the main obstacles to smooth skin are fear of pain and fear of the unknown. We can't do much about the pain factor – except remind you that "what doesn't kill you makes you more attractive" (or something like that) – but we can help with the 'unknown'. If you think IPL stands for 'Instant Pain-free Leg-hair Removal', or that sugaring has something to do with cakes, find out all you could ever want to know (and more) about shedding your winter coat…
Waxing
Pain factor: 4/5 We imagine quite a fair number of you are familiar with waxing, but for any first-timers out there here's what to expect: you'll be asked to remove a few items of clothing and it feels a bit like pulling of a stubborn plaster. Yes it smarts a little, but the results are immediate, kind to skin and - as hair is removed at the root - last for three to four weeks. Many salons these days give you the option of hot rather than strip wax. Don't panic, this refers to a type of wax that sets on the skin and can be pulled off without the use of a strip. Many believe it's the more effective and less painful option, but from our experience they both get the job done.
Electrolysis
Pain factor: 2/5 It might sound extreme, but Electrolysis – which uses negatively charged electrical current to destroy hair follicles – is actually relatively painless. Your therapist will use a fine metal probe to enter individual hair follicles and transmit a small electrical current. The probe doesn't pierce your skin, and you shouldn't feel it enter the follicle at all, although you might experiences a mild sting as the current zaps the root of the hair. Treating hairs individually takes a while, meaning treatments take longer than waxing (lasting up to two hours), and it takes a few sessions to see the effects. However, Electrolysis has long been heralded as one of the most effective ways to remove hair for good.
Lasers
Pain factor: 2/5 Laser hair removal treatments involve an intense pulse of light (so that's what IPL stands for!) passing through the skin into the roots of the hair, to destroy the follicle. Despite sounding like something a Bond villain might subject you to, the process is pretty much pain-free, a bit like pinging an elastic band against the skin. Each pulse of the laser treats an area the size of a two-pence coin in a fraction of a second, so it's a pretty speedy process. However, the laser can only treat hairs that are on the darker end of the colour spectrum and in the 'growth period' of their lifecycle - meaning most of us will need six to eight treatments. If you plan on getting zapped before hitting the beach this summer, speak to your therapist first as some experts advise keeping skin out of the sun after treatment.
Sugaring
Pain factor: 3/5 Dating back thousands of years, Sugaring is the ancient predecessor of waxing. Instead of wax, a sugar paste is spread on the skin before a strip of cloth is applied and whipped off. A less popular method involves rolling a ball of sugar wax over an area of skin, in the opposite direction of hair growth, lifting the hair as it goes. This takes time but is relatively pain-free. Unlike many waxes, sugar paste contains no chemicals or resins, and is soluble in water meaning excess stickiness can be removed with a bit of soap. Best of all though, the sugar paste sticks to individual hairs rather than the skin, making the process less painful than waxing – hooray.
Shaving
Pain factor: 0/5 (Pain in the neck factor: 4/5) Shaving is fast, immediately effective and it doesn't require an appointment, which explains why it is the preferred method of hair removal for so many of us – despite a few drawbacks. Regular shavers among you know what we're taking about: daily regrowth, itchy skin, ingrown hairs and the hours of bathroom acrobatics required to reach those awkward spots. It might be painless, but it's still a pain. While our main piece of advice for shavers will always be to try out a longer lasting method of hair removal (see above), we understand that sometimes shaving legs, pits and other bits is far more convenient. Just remember, if you're going to shave, be prepared to take the rough with the smooth…