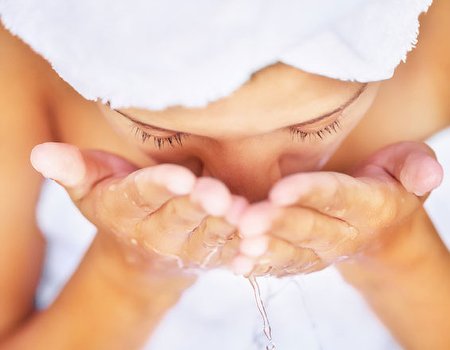 Now it may have skipped your attention, but the UK has been subject to something of a smog epidemic recently. Apparently a combination of Saharan sand and European pollution, the smog has been playing havoc with everything from the Prime Minister's fitness regime (he had to cancel his morning run and everything) to our hair, skin and general wellbeing. If you're feeling the effects of last week's weird weather, here are a few tips to wash that smog right out of your hair, skin and body…
Skin
Not to scaremonger or anything, but as well as their more serious implications, free radicals in the atmosphere can also cause dry skin, blocked pores and even premature ageing. If you're complexion is looking a little grey, try a brightening exfoliator like the Clearly Corrective White Brightening Exfoliator by Kiehl's (£25). City dwellers should exfoliate skin twice a week and cleanse morning and night. A decent moisturiser like Hydra-Calm Global Protection Day Cream by REN (£27), will hydrate the skin and form a protective barrier against pollutants on the surface to prevent future damage. In times of extreme dust and grime, a facial is always a relaxing way to cleanse and rejuvenate skin.
Hair
Toxins in the air not only affect the skin, they do a lot of damage to our follicles too, causing hair to become greasy more quickly, look dull, feel dry, and possibly even aggravate male balding – again, not meaning to scaremonger. In extreme situations protect your hair by wearing a scarf, or tying it up. It can be tempting to over-wash hair when you come home and it smells and feels unclean, but ultimately this is damaging too. Try washing your locks once a week with an extra cleansing shampoo like Redken Hair Cleansing Cream Shampoo (£11.65, feelunique.com) or Tresemme Vitamin C Deep Cleansing Shampoo (£3.89, Boots.com). It'll feel squeaky clean in no time.
Body
Speaking of vitamin C (which helps fight free radicals in the body and works to repair and prevent skin damage), it's important to up your antioxidant and vitamin intake when you find yourself in less healthy environments. Be sure to eat plenty of fresh fruit and veg, and drink plenty of water to flush out unwanted toxins. If you're feeling brave, colonic hydrotherapy, or colonic irrigation, uses purified water, coffee or even herbs to cleanse your colon. It's not the most glamourous treatment, but fans swear by its ability to relieve uncomfortable symptoms like bloating, constipation, flatulence and IBS. Hey, don't knock it till you've tried it...