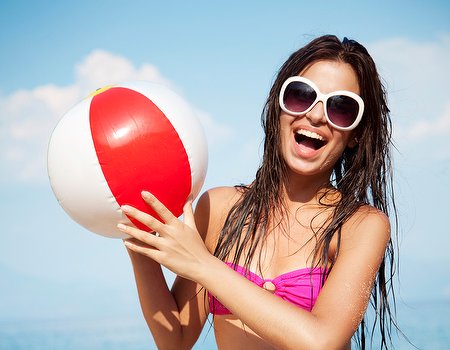 Makeup, haircuts, beauty treatments – when it comes to looking good the average British woman spends a fair bit. Add a recent craze for beauty-boosting supplements into the equation and it seems we're spending more than ever, as feelunique has revealed a 48 per cent rise in sales of supplements and natural remedies in the last year.
The statistics from the online premium beauty retailer show a particular increase in skin-boosters, and cooking oils like Fushi Coconut Oil (up 46 per cent), Manuka Honey (65 per cent rise) and celeb-favourite Udo Choice Ultimate Oil Blend (54 per cent rise). With summer on its way, many of us will be putting even more effort into looking and feeling our best over the next few months so we thought we'd look into which super supplements can help with our pre-holiday prep…
Skin
Good for warding off colds in the winter, vitamin C is also an important supplement for gorgeous summer skin. Not only is the vitamin believed to help protect from sun damage, it also acts as a natural antioxidant and works to improve the production of collagen in the skin. Best of all, vitamin C also contains ascorbic acid, which helps stop the sweat glands from tiring out, helping the body cope with heat - phew. As for food (remember supplements work as an added extra to a healthy diet, not a substitute – the clue's in the name) be sure to include lots of vitamins A and B which are essential for skin maintenance and nourishment and vitamin E which can help fight the harmful effects of the sun.
Hair/nails
In summer months, there's nothing cooler than laid-back looking locks. Unfortunately, for most of us, achieving that relaxed beachy look takes more work than we'd like to admit, especially as the elements seem to be against our follicles in warmer weather. That's right, sun, sea and a nice cool breeze might sound pretty heavenly, but that heaven plays havoc with our hair. Step in summer supplements like Zinc, iron, and vitamin D which support the maintenance of healthy hair. For a real glossy boost, try incorporating more B vitamins into your diet (in things like wholegrains, fish, nuts and leafy veg) or Biotin (aka Vitamin B7), which helps the metabolism and protein-production. Many swear by it for strong, glossy locks and improved skin and nails – which is particularly important if you're planning on spending lots of time in the water.
Body
Here at Wahanda we love pretty much everything about summer, apart from one thing: hayfever. As any fellow sufferers will know, a high pollen count can ruin an otherwise glorious sunny day, leaving you red-nosed and itchy-eyed. There are lots of natural antihistamines and anti-inflammatories that can be incorporated into daily life such as vitamin C, turmeric, chilli and quercetin, a natural antioxidant that helps stabilize the body's mast cells - which produce histamine (causing allergic reactions) - and can be found in citrus fruits, parsley, broccoli and red wine. As for slimming, we're great advocates of the old 'eat well and move lots' approach and tend to believe there is no wonder pill to make us all bikini ready – or if there is, we haven't found it. However, if you've been working hard on your beach bod and a case of bloating is threatening to ruin the effect try ginger, peppermint or fennel to ease a swollen tum. Six-pack here we come.