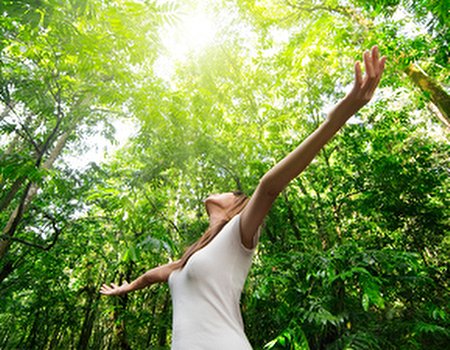 After a healthy start to the year vowing to eat more green things, less chocolate things and generally move around more, we at Wahanda have a confession to make: our good intentions are slipping. Three months into 2013 and we've found our self-restraint is being tested and our "body is a temple" mantra is not as convincing as it was in January – and not half as enticing as a piece of cake.
With warm weather finally on its way this is no time to be giving up on healthy habits. What we need is a spot of spring cleaning to erase any damage caused by recent slips and put us back on the right path. Put down your feather duster, we're not talking housework - or colonics for that matter. We mean spring cleaning our bodies. Confused? Here's are few foodie tricks to get you started…
Lemons
When life gives you lemons, say thank you and make yourself a refreshing detox drink. It's so simple, adding a couple of drops of fresh lemon juice to water not only helps keeps the body hydrated, it's also a great way to get some vitamin C which helps dissolve toxins so that the body can get rid of them easily (use your imagination). Drinking a glass of water and lemon juice with breakfast is one of the healthiest ways to start the day, and hot water with a wedge of lemon in makes a great alternative to caffeinated drinks like tea and coffee which can dehydrate you and leave you looking and feeling a little sour.
Watercress
One of the more forgotten members of the salad family – and considered by some to be a weed - watercress is packed full of so many good things it was once used as a remedy for scurvy. These peppery leaves might be small but they are full of iron, calcium, iodine, folic acid and vitamins A and C which have a diuretic effect on the body that's great for detoxing. Add a handful of watercress to meals like salads, soups, and sandwiches for a tasty kick with a few long term benefits.
Coconut water
Despite its celebrity status, coconut water is a simple product from humble beginnings. The wonder drink – a favourite among the A-list – is simply water taken from the inside of a young (green) coconut. The juice is made up off simple sugar, electrolytes, and minerals which help replenish hydration levels – so much so that hospitals in many tropical countries use it to treat patients with, ahem, 'upset stomachs'. Coconut water is also a good source of B-complex vitamins, which are essential in replenishing the body, as well as good old vitamin C. Tiana Coconut Water is not only fair trade, it is canned within three hours of the coconuts being opened which keeps it fresh and maximises nutritional content. Rihanna eat your heart out.
Green tea
You've probably already heard that Green Tea is good for detoxing, but have you heard why? Green tea is packed full of Polyphenols, powerful antioxidants that help neutralize destructive 'free radicals' in the body. These free radicals might sound like fun but they can do a lot of damage to cells and DNA, encouraging the aging process and putting us at risk of disease. Green tea also contains catechins, which speed up liver activity and help it to flush out toxins. With its rich earthy taste, this green brew isn't everyone's cup of tea but try taking it with a spoonful of honey (another natural antioxidant) to sweeten.
Aloe Vera
Aloe Vera is one of our favourite things to put on our body when our skin is feeling dry, but did you know that it can work wonders inside the body too? Aloe Vera Gel from Forever Living is an Aloe Vera drink made from the natural gel inside the aloe leaf that works to aid digestion, balance the immune system, nourish the skin, boost natural energy and even help with weight loss. We tried it recently and although the pulpy liquid is something of an acquired taste, it's a great option for spring cleaning.