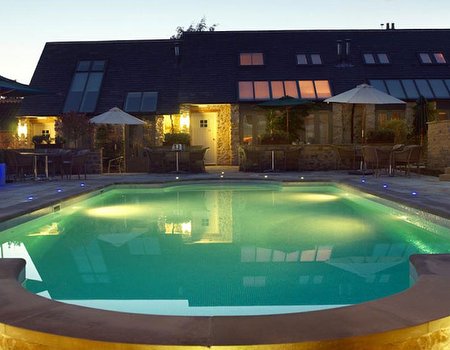 The last bank holiday of the year is approaching which means that 'summer' is on its way out and it's time to start making the most of the remaining good weather – give or take the odd hurricane. We all know that the best place to while away the last lazy days of summer is poolside, but with summer holidays over for many of us, and loom-band clad kids on their hols taking over the local lido (we're just jealous), it can be hard to find the perfect pool to recline beside. Don't panic, we've scoured the country for the best spas with outdoor pools and narrowed it down to five firm favourites…
Verbena Spa, North Yorkshire
The word 'verbena' comes from a family of pretty pink flowers, and we can't think of a more appropriate name for one of the prettiest pools on our list (pictured above), a stone's throw from the idyllic market town of Helmsley. Situated in the picturesque courtyard of this countryside retreat, the pool at Verbena Spa at The Feversham Arms Hotel looks a little like the mythical lagoon we mentioned earlier. With warm turquoise waters and soft lighting, it's the perfect place to enjoy a balmy (or rainy) summer evening.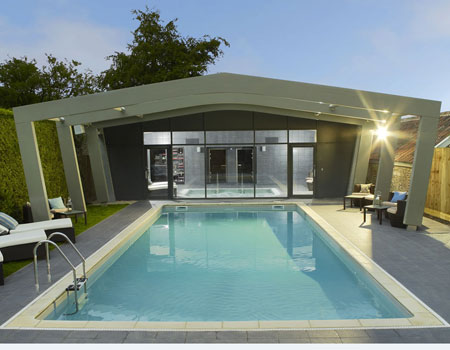 The Spa at Homewood Park Hotel
The Spa at Homewood Park Hotel, Bath
The city of Bath has been championing outdoor bathing for centuries, so it's no surprise that the Spa at Homewood Park Hotel features in our top five. Set among its own beautiful gardens, packed full of herbs and honeybees, a sense of tranquility hits guests before they even glimpse the spa. Indoors, facilities include a hydrotherapy pool overlooking the gardens and a 'mood enhancing thermal suite', but for the purpose of this blog we'll stay outside among the flora and fauna and talk about the outdoor heated pool. Also set among the gorgeous gardens, the pool at Homewood Park offers unparalleled views and a sense of getting back to nature that could only be topped by bathing in some kind of naturally warm, crystal-clear oasis. Let us know when you've found one.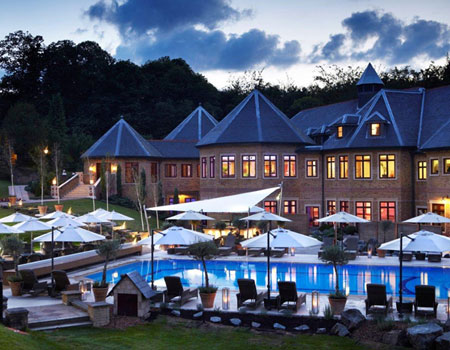 The Spa at Pennyhill Park Hotel
The Spa at Pennyhill Park Hotel, Bagshot, Surrey
Surrounded by 123 acres of parkland and home to 45,000 sq ft devoted entirely to relaxation, the luxurious Pennyhill Park Hotel and Spa in Surrey doesn't exactly do things by halves. No surprises then that when it comes to swimming pools, one just wouldn't cut it. Neither would two for that matter. This indulgent spa counts no less than eight pools among its facilities, including an outdoor option, surrounded by potted plants, posh recliners and parasols. Perfect.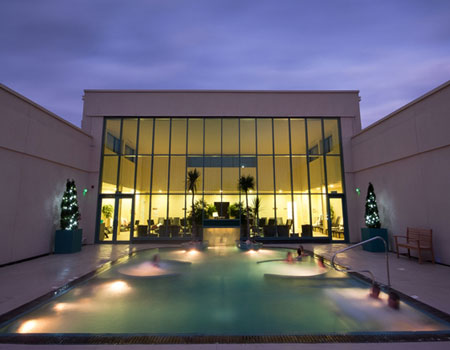 The Malvern Spa
The Malvern Spa, Worcestershire
It might have been Malvern's famous hills that inspired the likes of William Wordsworth and John Dyer, but it's the pool at the Malvern Spa that makes us stop and reflect. Located in this small Midlands spa town, the Malvern Spa is known for its first class facilities, varied treatment menu and unique pool. Perhaps not the best for actual swimming, the 20m hydrotherapy pool begins within the spa walls before extending outside, and offers features like bubble massage stations and powerful water jets. Alongside the pool, guests can enjoy hydrotherapy beds and spacious, relaxing booths full of warmed Malvern spring water.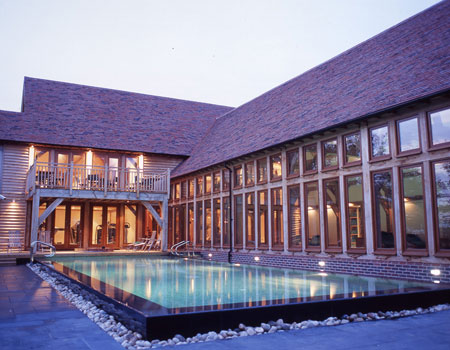 Bailiffscourt Spa
Bailiffscourt Spa, West Sussex
While a spa that was built to resemble a barn might not scream luxury and indulgence, we can assure you that within the exposed timber frame and limestone and green oak decor of Bailiffscourt Spa in Arundel are some of the most luxurious facilities in the south of England. Although this spa might be all about enhancing relaxation by bringing the outside indoors, its outdoor facilities aren't too shabby either. Most notable, of course, is the pool, which, surrounded by wooden decking, has a sort of chic Scandinavian feel, making it one of the coolest (if not in temperature) watering holes in the country.