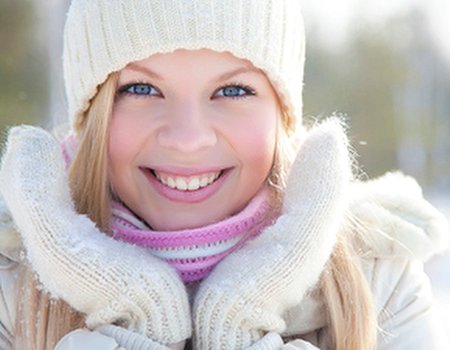 As any excitable children out there will have noticed Christmas is only a matter of days away now. The tree's decorated, the advent calendar's looking bare and we've only got a few frantic days left to do away with our 'bah humbugs' and really get into the festive spirit.
We're feeling pretty Christmassy here already, but we can't help noticing people around us letting winter woes get in the way of their good cheer. Whether it's a red nose, poor circulation or flyaway hair, these seasonal sufferings can really get us down. So just in time for the big day we thought we'd spread a little joy and let you all in on our top tips and tricks to beat them. See you later Scrooge…
Bad circulation
We all moan about cold hands and feet at this time of year but for those of us who suffer from poor circulation simply putting on a pair of gloves won't always cut it. Other effects of poor circulation can include a pale complexion, constipation, and difficulty processing food nutrients leading to feelings of lethargy and dizziness – none of which makes for a particularly merry Christmas. Beat bad circulation with regular exercise - easier said than done over the festive period - or a relaxing beauty treatment. Hydrotherapy, reflexology and massages (hot stone in particular) are all great ways to boost blood flow, put some colour in your cheeks and escape from festive frenzy.
Dry skin
This time of year can be a nightmare for skin. Cold winds, low humidity, and dry central heating all cause water to evaporate from the skin leaving it dry, itchy and sometimes painful. Beat the itch by showering in warm water rather than hot (or a warm bath with nourishing bath oil is even better) and moisturising twice a day. Make sure you're using a moisturiser that is gentle, perfume-free and nourishing. We love La Roche-Posay Lipikar Baume AP Lipid Replenishing Body Balm. Made using thermal spa water sourced from a spring in central France, it's the reason our skin looks so gorgeous all year round.
Bad hair days
We sometimes forget that our hair can be just as sensitive as our skin, particularly at this time of year. With strong winds blowing it around and central heating drying it out and weakening the cuticle, it's no wonder our hair sometimes rebels this time of year, transforming from silky and sleek to frizzy and fly away. Give your locks the TLC they deserve this winter with a nourishing and protecting treatment. If your Christmas budget doesn't allow for a Keratin treatment, try using an at home mask like Umberto Giannini Frizzi When Nothing Else Will Do Intense Recovery Mask with Argan Oil once a week.
Winter blues
Christmas might be the happiest time of year for many, but cold weather, lack of vitamin D and weeks of over-indulgence can also leave us feeling lethargic and a little bit blue. The nature and severity of these 'winter blues' varies from person to person and while they're not always easy to cure there are some simple things we can do to help the situation. Regular exercise is proven to do wonders for our mood but cold weather can make this difficult. Try joining an indoor exercise class like yoga or pilates. Vitamin D supplements and herbal teas like Lemon Balm have also been proved to have a positive effect on mood this time of year. If you think your problem is more serious speak to your GP about counselling.
Red nose/ cold
While we still wait on a cure for the common cold, sometimes it's best to just soothe it and hide it. Try taking a supplement like Echinacea to treat symptoms, stimulate the immune system and ward off infection. Or, better still Daily Defence Immune Support from Bee Prepared wards off infection with natural antibiotic and antiviral properties from – you guessed it – bees. If your red nose is ruining your Christmas photos but dousing yourself with powder makes you look like the ghost of Christmas past try something else. Firstly, make sure you moisturise away any dry skin so you're left with a nice clean canvas. Next apply a green-based primer like Clinique Redness Solutions Daily Protective Base to off-set the red then apply your usual foundation. Rudolph who?