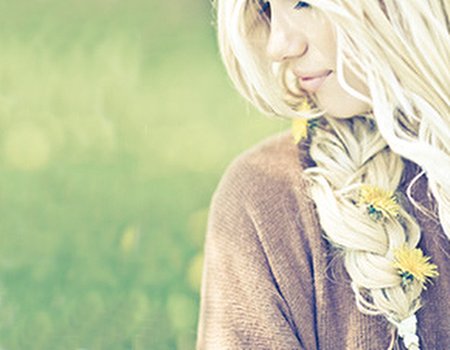 As we find ourselves in mid June, it would seem that a new season is upon us. No not summer - talk about wishful thinking - we mean festival season. Our favourite time of the year (apart from Christmas) and the perfect excuse to don our wellies, listen to some music and let our hair down.
Speaking of hair, as anyone who has attended a festival in the past might have noticed, 'letting it down' in unreliable weather conditions, where shelter and hair straighteners are hard to come by, isn't always as romantic as it sounds. For gorgeous hair that lasts more than a day you need to be prepared. Fortunately for you, prepared is our middle name - what did you expect, our first name's 'Wahanda'. Take a look at our three-day plan for stylish, tent-proof hair.
Day one: fishtail plait
2013 is shaping up to be the year of the plait. In fact, we don't remember braids having been this popular since we ditched the pigtails in year four. Well, not only are plaits now in vogue, they are an easy way to keep clean hair out of the way and avoid frizz-inducing conditions. Plaits come in many shapes and sizes, our favourite (today) is the messy fishtail. Here's how to do it:
Divide loose hair into two equal sections and take one in each hand.
Carefully take a small strand of hair (about 1cm) from underneath the left section, pull it out and over the left section and into the right one. Hold it underneath.
Take a different strand (1cm again) from the right section and pull it out, over the top and into the left section. Again, hold it underneath.
Keep alternating like this, using equal sized strands, until you have worked your way down the full length of your hair.
Fasten with a small elastic band and gently pull small sections of hair to loosen the plait and give it a slightly undone.
Spritz with a little hairspray to hold in place et voila.
Pssst, want to see a step-by-step guide in pictures? Take a look here at our Google+ page...
Day two: waves
One of the best things about wearing hair in a plait is taking it out and revealing a full head of gorgeous waves. This laid back look is perfect for day two of a festival as second day hair is less prone to frizz and flyaways than when it is squeaky clean. Refresh your waves by spritzing or shaking some dry shampoo into the roots. We love ['No Drought' by Lush]. Work it through with your fingers then gently comb out (careful not to get rid of your new waves). No Drought absorbs excess oil without leaving a dusty residue but, best of all, it smells fresh and citrusy – like having a shower without the enormous queue and luke warm water. Next massage a pea-sized amount of serum (we love Lee Stafford Argan Oil) into the ends for a little control and shine. Pop on a floral headband and some decorative facepaint and you're good to go.
Day three: top knot
By day three your hair, and presumably your tent, will be looking a little 'lived-in'. Hide the evidence (your hair, not your tent) with a chic, yet practical topknot. Like the 'undone' plait, the messy topknot had been a big trend for 2013, which is great news for festival hair. Here's how to get the look:
Sprinkle or spritz dry shampoo onto your roots, massage with your finger tips then comb out.
Flip your head over (tent roof permitting) and scoop hair into a high ponytail. Don't worry about smoothing out any lumps and bumps, just fasten with a thin hair band.
Twist your ponytail and wrap it around your hair band to form a bun. Take another thin band and secure it.
Now your bun is secure, mess it up a little by using both hands to pull sections from the centre – as you might tighten a ponytail.
Pull out a few loose strands from the front of your hair and the bun itself. Spray with a long-lasting hairspray like V05 Strong Hold Weather Resistant to hold in place.
Add a dash of shocking red lipstick, enjoy your final day and don't do anything we wouldn't do...