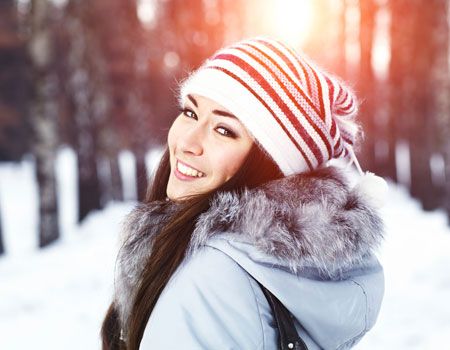 If we learned one thing from the Nativity story it's that no matter how desperate the circumstances, finding a space in a popular venue (be it restaurant, salon or, indeed, inn) during the festive period can be difficult. In fact it can be pretty impossible, which is why if you're due your regular trim or colour in December, or think you might require a pre-party facial, it's worth booking appointments in advance.
Good news: here at Wahanda Towers we know a website that lets you book all your festive beauty in a matter of clicks. Even better news, you're already on it. Before the next few weeks get consumed by shopping, wrapping and stuffing, here are a few things you can tick off your to do list right now…
Hair
It is recommended that the average woman gets her hair trimmed every six to eight weeks, which means that if you've been for a hair cut in the past month (and want to stay in tip top condition until the new year) you'll probably be due a follow up at some point during the festive period. Hairdressers need holiday too so find a salon near you and an available slot and book in now.
Nails
The only thing that beats unwrapping presents on Christmas morning is having a set of beautiful shiny nails to tear the paper with. Classic, sparkly or festively decorated, a manicure is the ultimate finishing touch to any festive party outfit (and one less thing to worry about before the office Christmas party/Christmas Day with the in-laws/New Year's Eve – delete as appropriate). Need inspiration? Take a look at our favourite festive creations.
Maintenance
The last thing you want to do in the middle of decking the halls and roasting chestnuts is fiddling around with tweezers, razors or wax strips. Make your Christmas a little less stressful by ticking off maintenance treatments like waxing and threading in advance. No pain no gain and all that…
Facial
The festive period is all about things that twinkle, sparkle and shine, including your skin – in a good way. No we're not talking sparkly makeup, we mean glowing, healthy-looking skin that will see you through the holidays looking gorgeous, and combat the effects of all that mulled wine and chocolate. In other words we mean a facial, and whether you want yours in time for Christmas morning or as a post-NYE refresher, places are already booking up. Find a festive facial near you.
Party tricks
What's your favourite thing about this time of year? The food? The presents? The fact Advent calendars make it socially acceptable to eat chocolate with your breakfast? Ours is the multitude of opportunities to get dolled up. For the majority of us, pre-party preening isn't part of daily life, so it can easily be forgotten until the last minute. Not to sound like a broken record or anything, but if you think you could do with a set of longer lashes or some festive nail art when party season kicks off don't forget to book it in advance, then all that's left to worry about is present buying, present wrapping, tree shopping, turkey ordering, tree decorating, turkey stuffing, cooking, cleaning and actually going to visit a few of your nearest and dearest. Easy.