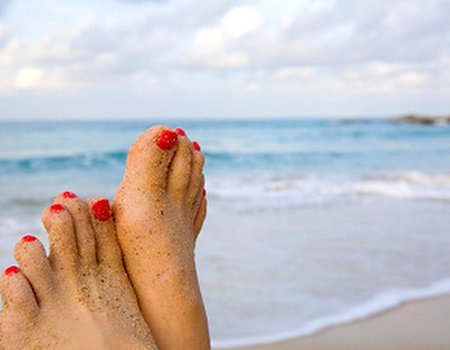 Friday marks the official start of summer in the UK and as the weather begins to improve (hey, stranger things have happened) we're having visions of picnics in flip-flops, weddings in wedges and paddling barefoot in gentle waves. There's just one thing we need to make our vision a reality: beautiful feet. Getting feet ready for summer takes more than a quick clip and slick of polish. You see ladies, there's a lot more to your tootsies than toenails and with ample opportunity to show them off this season (fingers crossed) the time has come to heal those heels and treat your toes to a full MOT. Warning, this might tickle…
M is for moisturise
Here at Wahanda we know the secret to eternal youth, or youthful-looking skin at least, is to keep it moisturised. However, even beauty geeks like us - who moisturise 'top to toe' every day - probably aren't giving our feet quite what they need. Since the skin on our feet is thicker than other parts of the body it will take more than your favourite body lotion to penetrate it. Your feet need something heavy duty like Eucerin Dry Skin Intensive Foot Cream. It contains Urea which sounds a little gross, but is found naturally in the skin and is one of the most effective ways to store water and lock in moisture. Use before bed then don a pair of moisturising socks to seal in the goodness over night.
O is for 'Oh that's smooth'
Have you been putting off wearing your new summer sandals for fear of flashing your dry, cracked heels? Well fear not, you're in good company. Caused by exposure to cold weather, central heating, hot showers and standing on our feet for long periods, dry heels plague nearly all of us. Still, they're guaranteed to ruin the effect of a pretty pair of flip-flops. Treat dry heels by soaking feet in warm water for 15 minutes, drying with a soft towel then using a foot file like Sanctuary Spa Intensive Foot File to gently buff away hard skin. Coat in a heel repair cream like Scholl Cracked Heel Repair and repeat once or twice a week to keep heels soft and supple all summer long.
T is for TLC
After carrying us around all day everyday (often dressed in inappropriate footwear) our feet can become tired and uncomfortable - especially during the summer. Warmer weather (fingers still crossed) causes feet to swell making shoes feel tighter and causing more discomfort and, in some cases, the urge to hurl your favourite pumps into the nearest river. Stop right there. Put your feet up and have a glass of water. Elevating your feet will help pump fluid back to your heart, while topping up your water supplies will prevent a dehydrated body from storing water in secret hiding places like, you guessed it, your feet. After taking it easy treat your tired tootsies to a well-earned foot massage. Rubbing the feet will encourage any excess water they are storing to get moving and make its way to the kidneys where it can be filtered out of the body. As if you needed an excuse.
If you're too rushed off your feet to perform your own MOT, a good pedicure will include much of the buffing, moisturising and polishing needed for summer-ready feet. Take a look at our pedi page to find one near you.