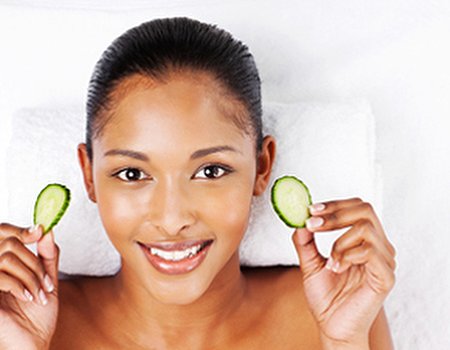 Picture the scene: you've spent the past five hours trying on outfits, perfecting your hair and makeup and practising the art of witty conversation when suddenly, the door bell rings. He's here. You take a final look in the mirror, open the door and go to take the bunch of flowers Mr Right is holding before you when suddenly you remember... your nails. Chipped, bitten and held out for him to see. Your eyes meet, and in that moment you both realise, it's over.
OK, we're being slightly dramatic - but with all the nerves and excitement that go along with dating it can be easy to get a little flustered when it comes to getting ready. On date night you want to shine, to relax and be yourself without having to worry that your date will notice your patchy fake tan or untamed brows. You need a foolproof plan to get date-ready, and guess what? We've got just the thing...
Nails
Top of our list is nails. While the chances of your date noticing whether or not your nails go with your outfit, finishing touches like this are a great way to feel preened, glamorous and completely date-ready. Indulge in a relaxing manicure or pedicure to get rid of any pre-date jitters or show off your quirky creativity with a bit of nail art - it'd be a good talking point if the conversation falls flat.
Facial
Are you lovesick? Have sleepless nights taken their toll on your complexion? Play it cool with a skin reviving facial that will leave you fresh-faced and glowing just in time for your rendezvous. Or, if you've just spent your month's wages on the outfit, try an at home face mask like this one from Montagne Jeunesse.
Blow dry
We've all been victim to the dreaded bad hair day, and some of us poor unfortunate souls have even suffered one on date night. Sometimes, hair just does not want to cooperate - combine that with a set of nervous fumbling fingers and you've got a bad hair evening on your hands. Let someone else deal with it and treat yourself to a blow dry or even an up-do for the occasion. Nothing boosts confidence like flawless hair.
Wax
You've found the perfect dress, guaranteed to make him fall head-over-heels in love with you and you've even been for a leg wax to make the most of your perfect pins. But be prepared - a last-minute wax can leave them angry and red and force you into a pair of jeans. Plan ahead and book your wax a few days in advance to give skin a chance to recover.
Teeth
You look gorgeous, you've been charming all night and you just know he's going to go in for the goodnight kiss. Just as you're about to dazzle him with your smile, you remember that glass of red and the garlic in your starter and suddenly you don't feel as kissable. Don't let anything ruin this magical moment. Guarantee a Cinderella smile that will last all night with a pre-date whitening treatment or dental clean then get ready to flash those pearly whites - and don't forget the lip balm.