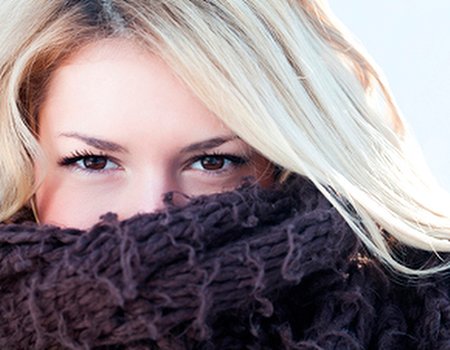 The great thing about autumn falling between summer and winter is how easy it makes updating your wardrobe. For the next few weeks we can experiment with brand new looks simply by teaming summer favourites with winter must-haves like a beloved cardigan, a good pair of tights and of course, an umbrella. Unfortunately when it comes to updating your makeup bag for the season it's not so simple.
The minute the weather starts getting colder (which, by the way, it has) it's time to start thinking about changing your beauty rituals. While certain products are great in summer, they might not be enough in an icy breeze, and you can't throw a cardigan over your face – well, it's not advisable. It's time for a beauty update. Don't panic, we're here to guide you through this transition with our top five tips to makeover your makeup bag for winter
Moisturise
Cold winds, central heating and fewer urges to hydrate with an ice cold drink means that in cold weather our skin can get very dry. It's incredibly important to moisturise at this time of year and since it's our faces that are exposed most to the treacherous weather conditions it's super important to keep them soft and protected. We love Liz Earle Skin Repair Moisturiser for Dry/Sensitive Skin. With moisturising ingredients like vitamin E, it replaces lost moisture while protecting against the cold. Best of all it's very gentle which is great as skin is extra sensitive in colder months.
Swap your lipgloss for lip balm
Did you know that lips lose more moisture than any other part of the face or body? Combine that fact with harsh winds and cold, dry air and it's no wonder we see many chapped lips in winter. Chapped lips are sore, irritating and make lipstick impossible, so make sure you always carry a good lip balm with you wherever you go this autumn. Balms containing petroleum or beeswax are best and you can't beat good old Vaseline aka petroleum jelly. We love Vaseline's new limited edition Pink Bubbly which is enriched with champagne grape. La-di-dah!
Powder your nose
You know that gorgeous dewy summer skin look? Well, it's over. Balmy skin looks great in summer but we all know cold weather brings with it bouts of colds and flu and a shiny face can just make you look ill. Invest in a face powder that will help seal foundation with a soft matte finish and protect skin against wet, windy weather. Getting the right shade is important so ask a consultant on a makeup counter to advise you and prepare not to shine this autumn/winter - it's for the best.
Tone down the bronzer
We love a bit of bronzer here at Wahanda. Spray tans too. In fact, we love pretty much anything that can help us get that lovely summer glow. Well the sun's gone and we're not fooling anyone anymore. The time has come to admit defeat and embrace those rosy winter cheeks with a nice pink blush. Pink cheeks were all over the autumn/winter 2012 catwalks earlier this year and the shops are full of them. From bright fuschia to petal pink there's a shade for every skin tone so get ready to blush and save the sunkissed look for when the temperature rises again.
Hairspray
While we might bemoan our dry skin and lament our rain-damaged makeup, nothing suffers more in these colder months than our hair. Even on the driest December day, that little bit of moisture in the air manages to seek out, and frizz out our hair. It might be worth considering a long-lasting treatment to see you through till spring. The Brazilian blow-dry, for example de-frizzes hair by coating cuticles in a keratin solution before sealing the sleek effect with a hot iron. If that's too permanent for any commitment-phobes out there, try a moisture-guarding spray like Frizz Ease Moisture Barrier Hairspray. Spritz hair liberally before stepping out the door to stops fly aways from... flying away.